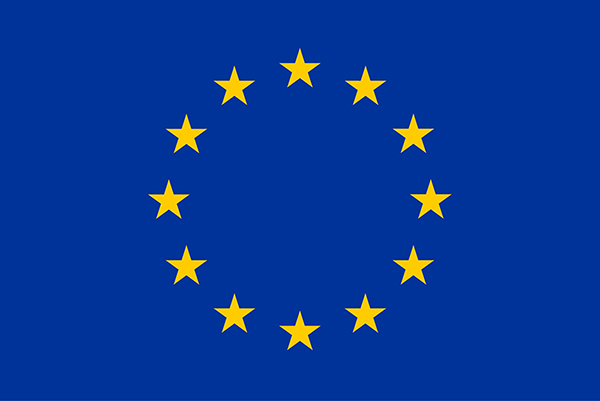 RA-Rake project has received funding from the European Union's Horizon 2020 research and innovation programme under grant agreement No 778475
A project by

A novel
double-wheel rake

that provides


high quality forage

with

lower ash contamination


and operates at

high speed


An

affordable solution

for all raking needs
IMPACTS
Estimated yearly economic benefits - for end users (breeders)
(calculated on an average quantity of 250 milk cows)
Thanks to the high quality of forage


-

€9.000 savings in cattle loss


+

€31.500 new revenues for extra milk production
Thanks to the high speed allowed by the double-star rake:
- €2.700 savings in farm operators' salaries
ADVANTAGES
Low initial investment
Modular Approach
Low Energy Consumption (-40%)
Low and easy maintenance
Ra-Rake: the Repossi wheel rake according to the company claim "Super forage for happy cows".
In 2014 a conversation with some clients, using comb-rakes, pointed out the advantages of star-wheel rakes and the objection of not having any technological improvement since the 1960s.
They claimed that "the ideal agriculture equipment would be a star-wheel rake with the advantage of the comb rakes of not collecting stones and dust".
Thus Ra-Rake originates.
Double wheel rake whose name and graphic symbol are inspired by the Egyptian Sun God, Ra. Because of the similarity with the shape of its working elements.
Development and Optimization of some industrial prototypes.
From that moment, we started working towards materialising the idea of having a star-wheel rake able to provide a complete clean forage.
Based on expertise of haymaking machines and the experience acquired through our comb rake harvesting, which provides -75% of dust contamination compared with other rakes (studies carried out by the University of Milan), we invented a new star-wheel rake with the same forage quality feature thanks to the missing contact with the ground.
A detailed design of the new system was developed, and subsequently used on simulation models through computational design assistance to test its functionality.
We developed then a real scale prototype to verify the technology and to perform field tests.
Thanks to EU contributions – RA-Rake project has received funding from the European Union's Horizon 2020 research and innovation programme under grant agreement No 778475 – we will finally innovate the way forage is windrowed.
Ra-Rake will permit us to reach and overtake the actual technology state of art.
RA-Rake project has received € 25.000,00 through POR-FESR 2014-2020 Innodriver-S3 Measure A
WORKPLAN
Work Packages:
RA-RAKE project will be implemented through four Work Packages: WP1 and WP2 are technical (duration of 6 and 16 months, respectively), WP3 concerns commercial activities and WP4 is related to the management of the project (See GANTT chart below).
WP1:

Prototype 1 design, testing and optimization
WP3:

Exploitation, dissemination, communication
Milestones: project stages
We have defined 3 milestones to be achieved and whose results will permit the transition to a new project stage.

The planned milestones will mark key steps on RA-Rake technical optimization:

M1:

Completion of P1 (prototype phase 1) field testing and final configuration selection


M2:

RA-Rake validated


M3:

Industrialisation readiness

M1 and M2 are preliminary to the stage of factory testing, M3 will state the passage to TRL 7 and finally M4 will define TRL9 with a prototype demonstrated in operational environment and ready to be marketed.
GALLERY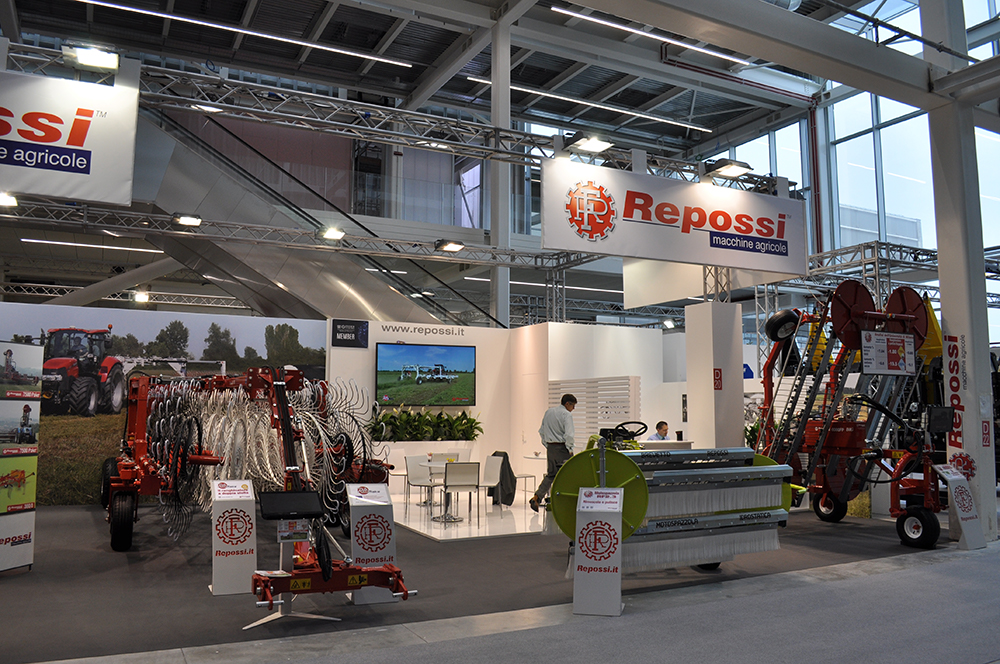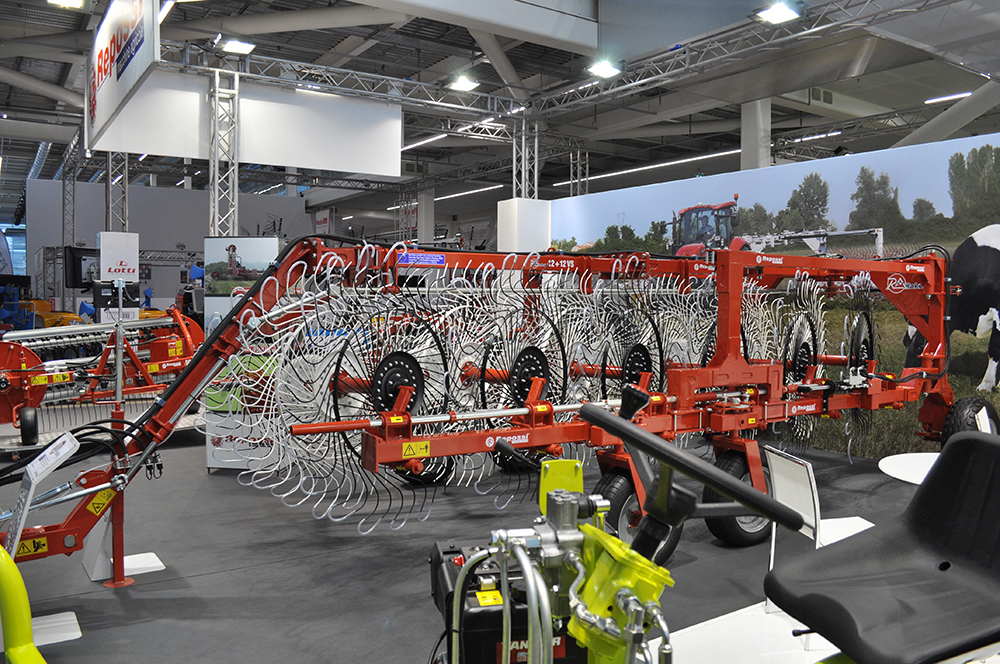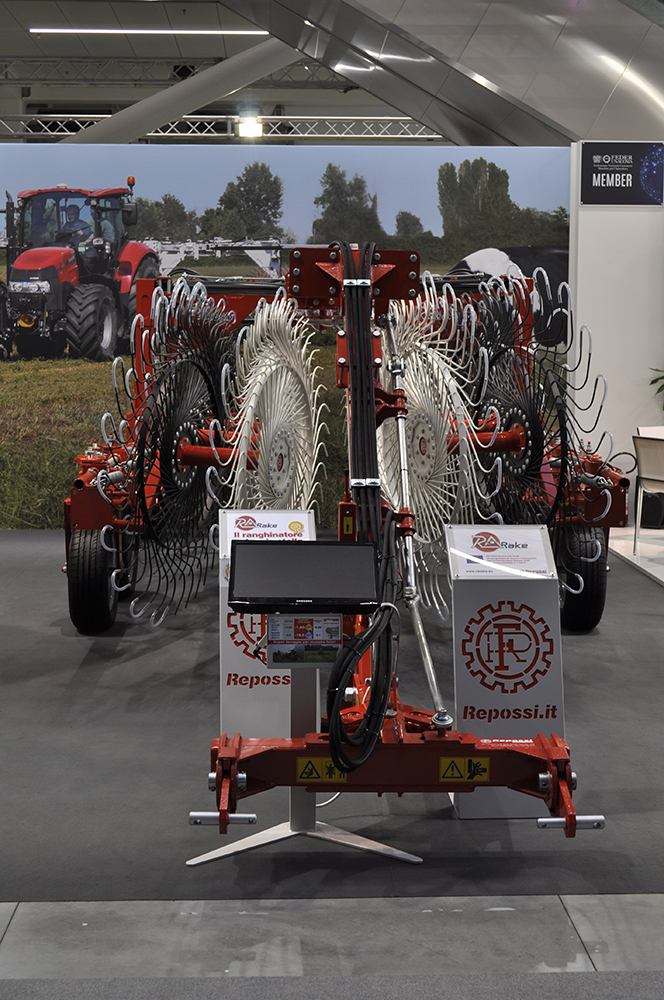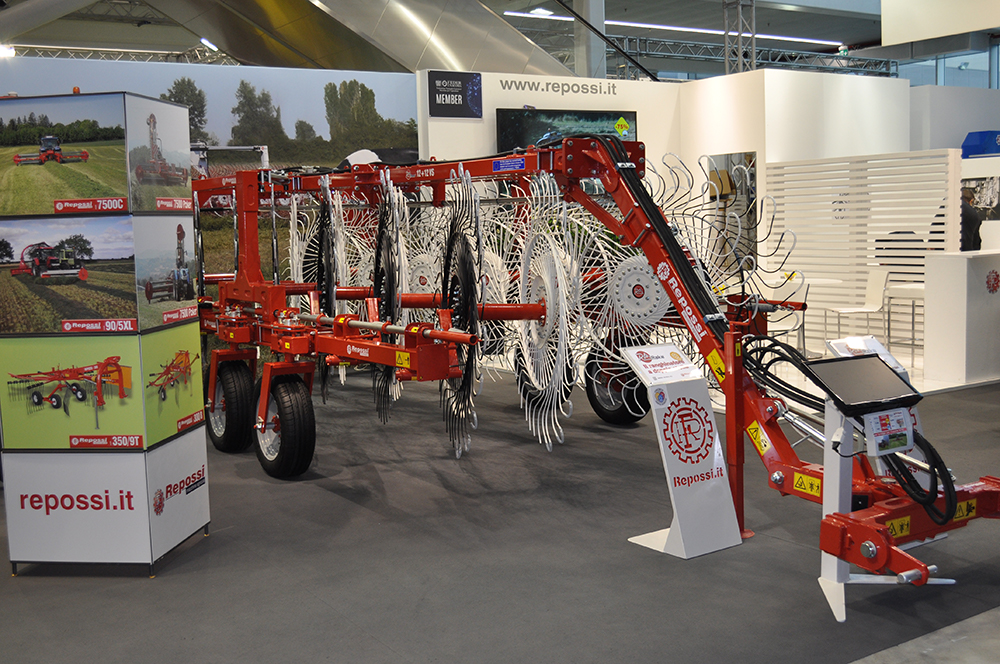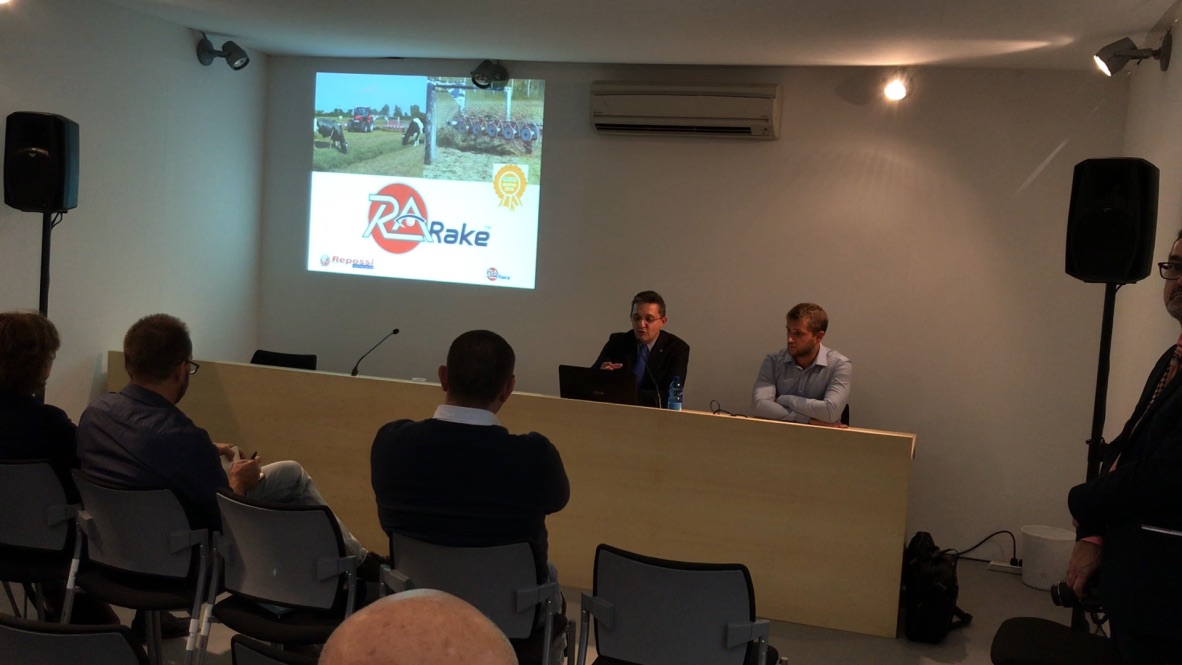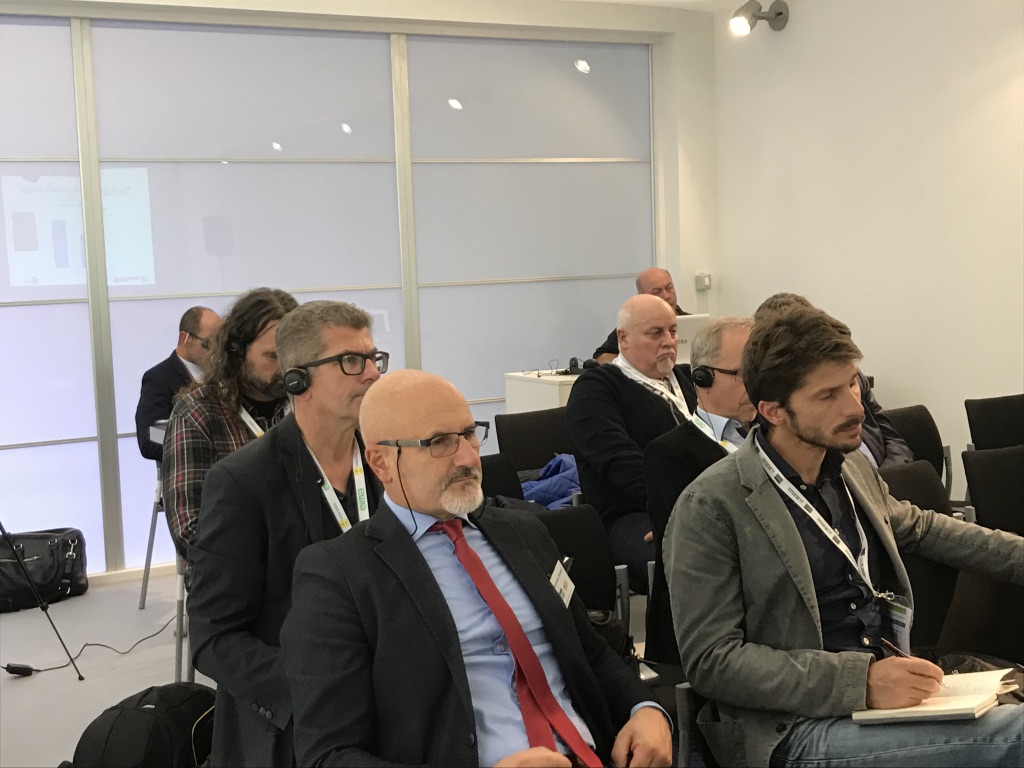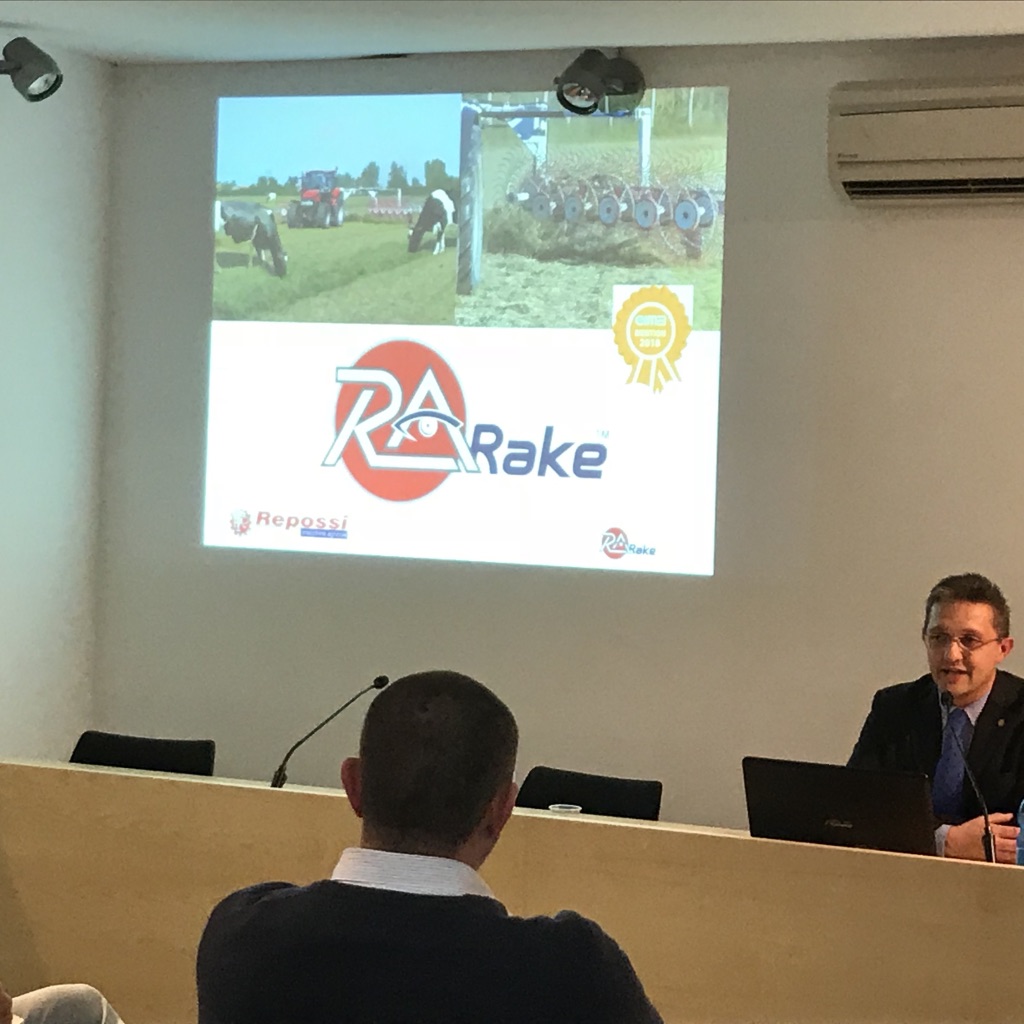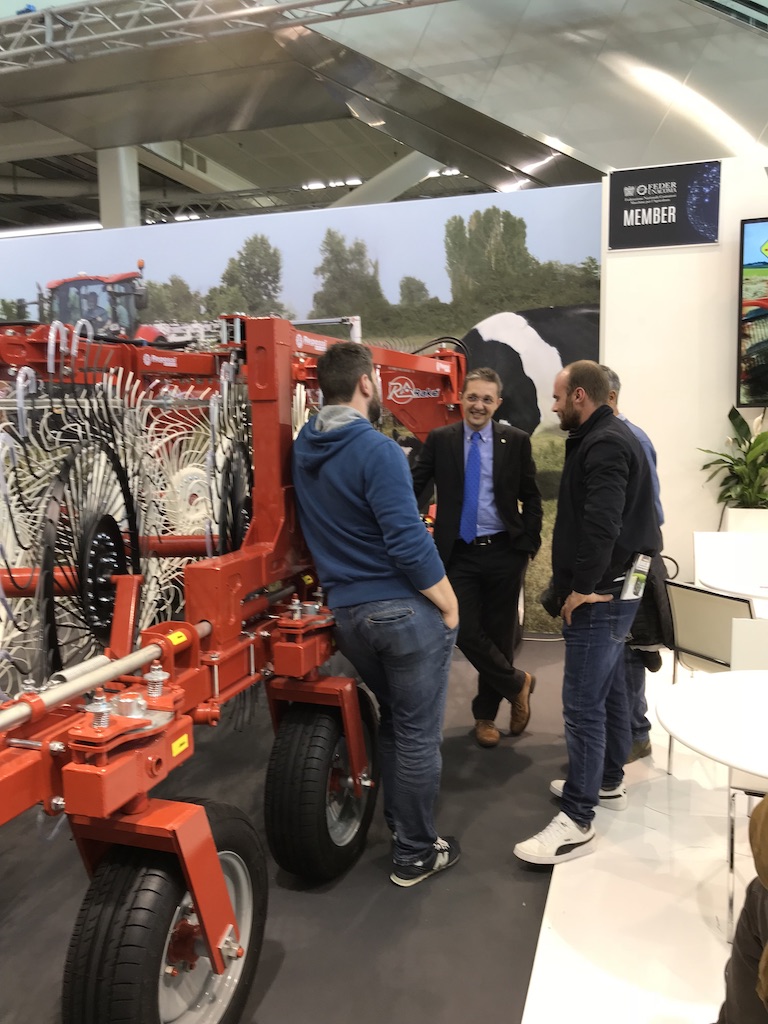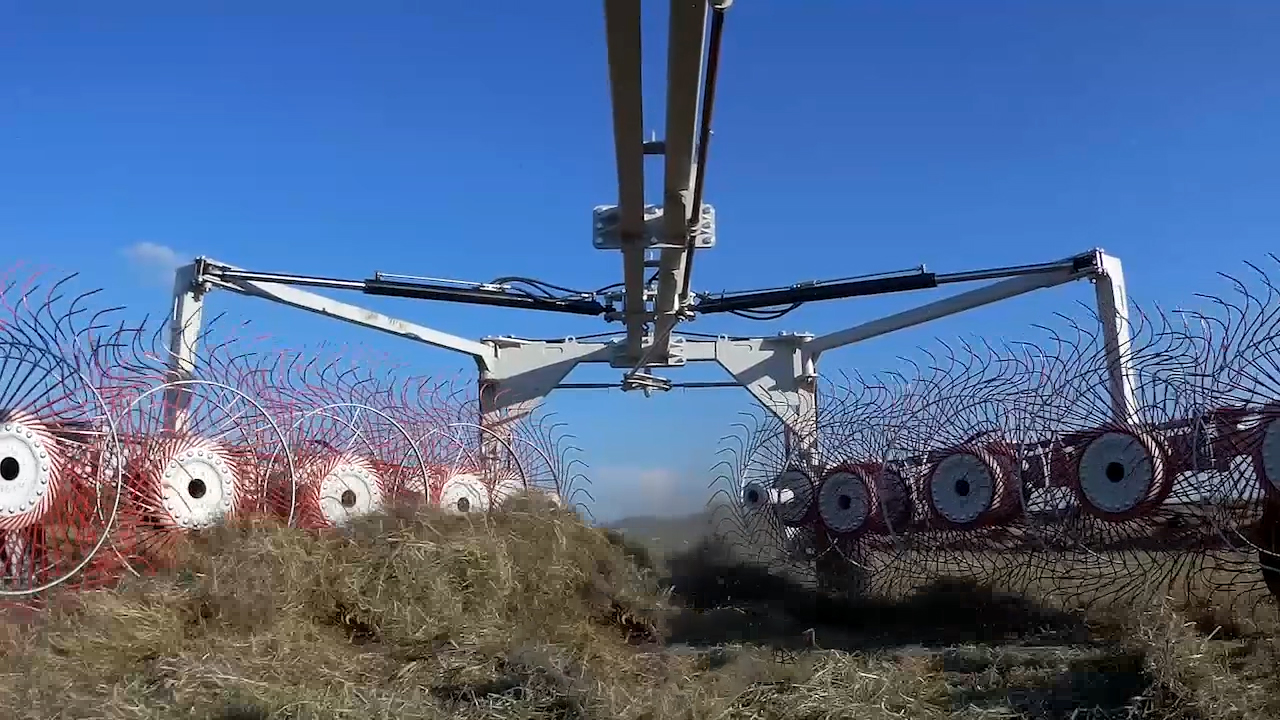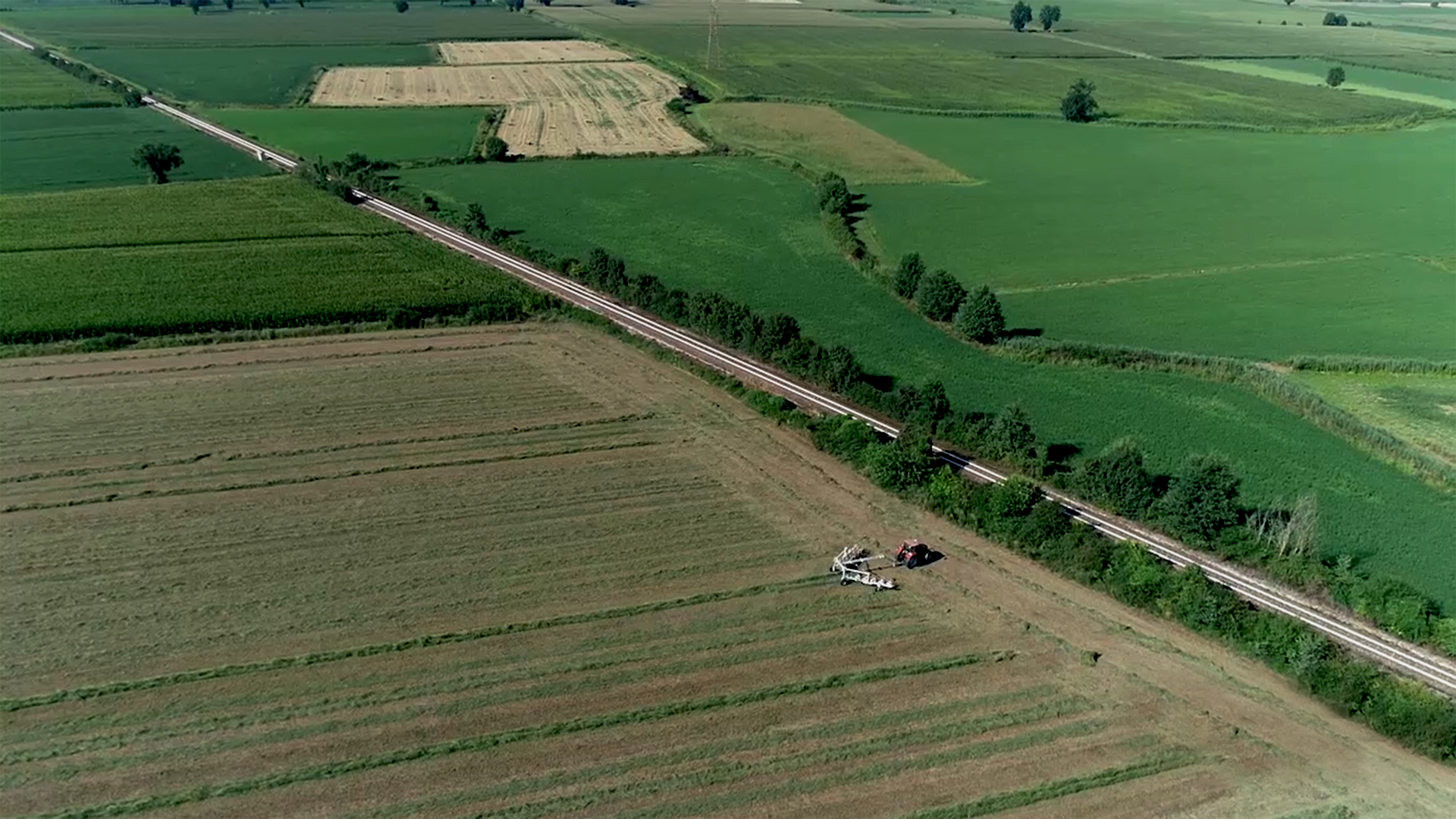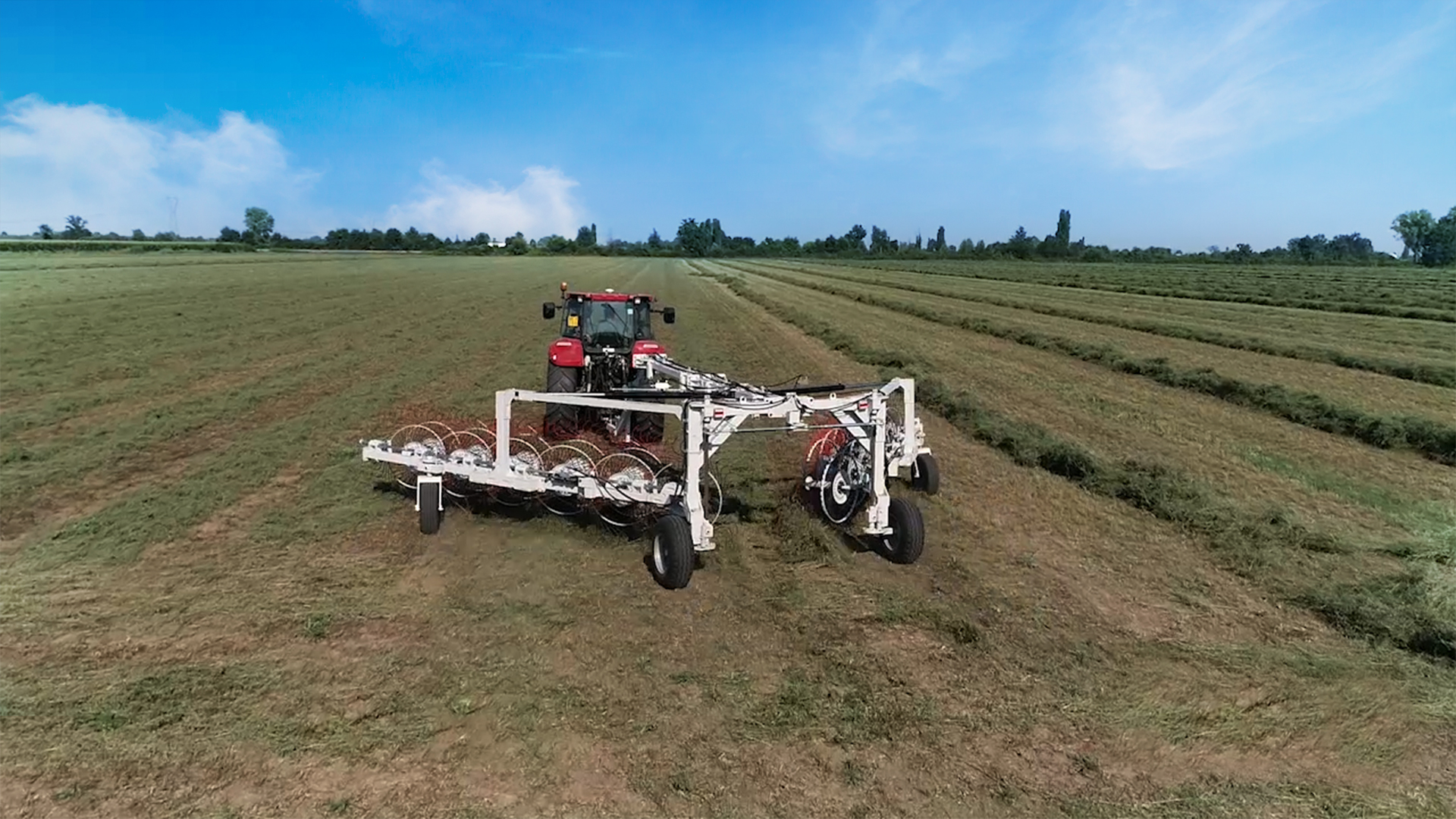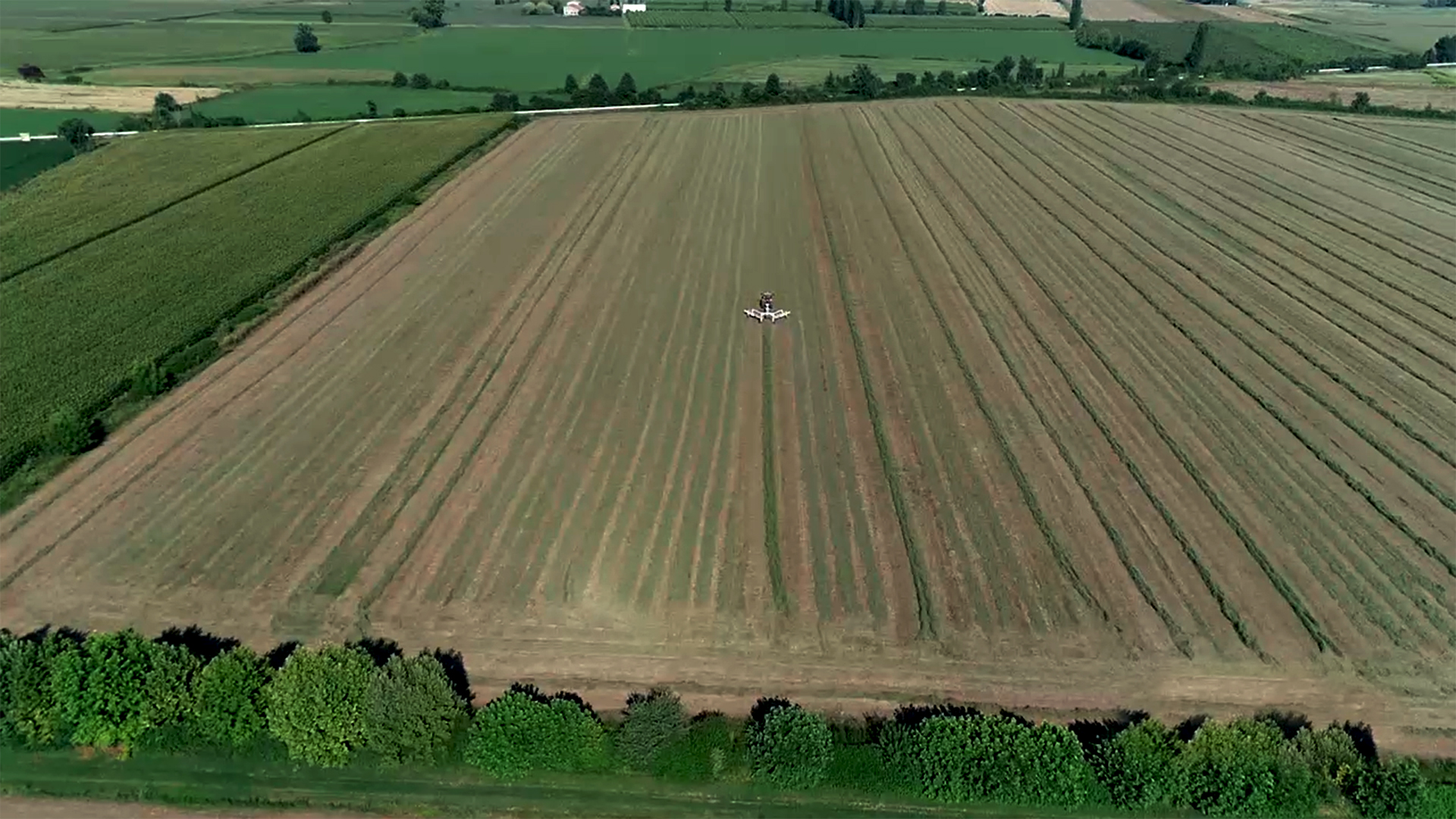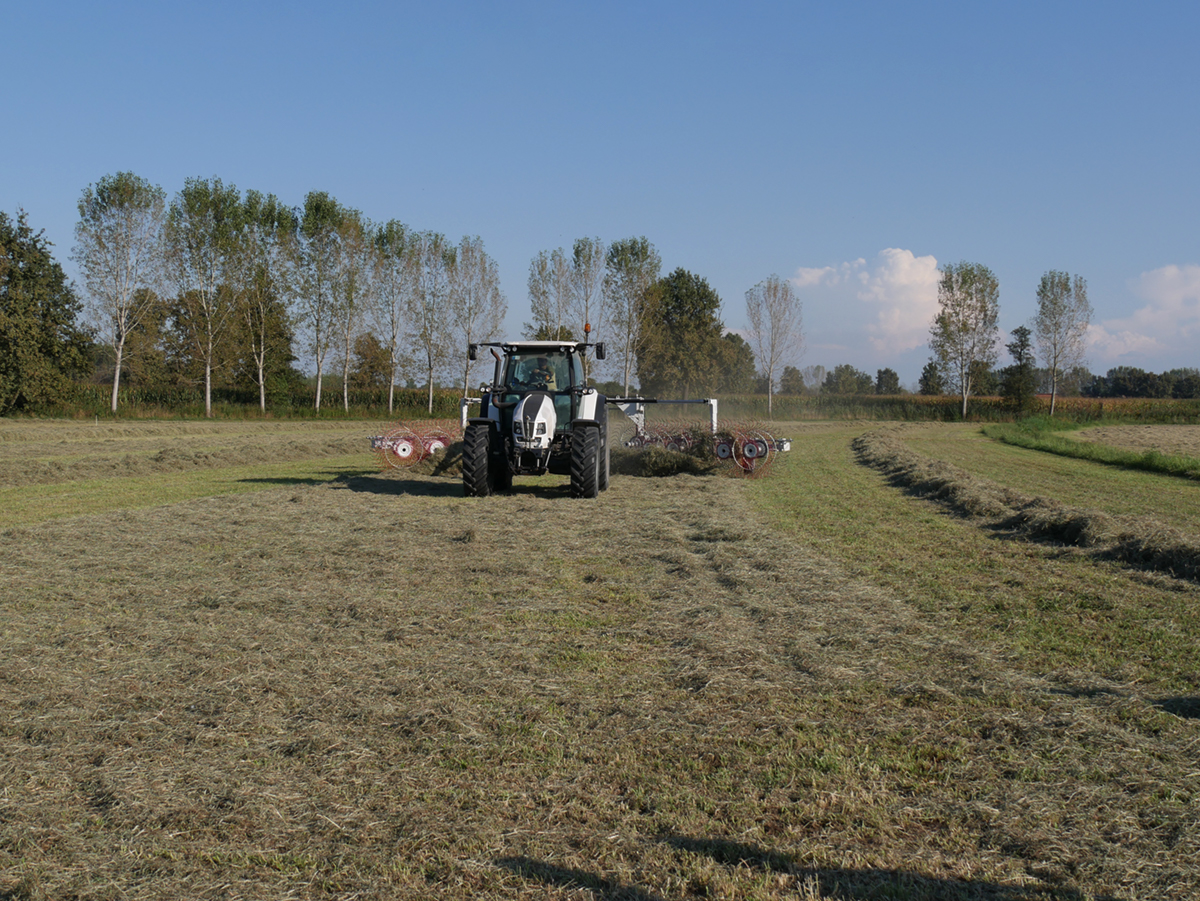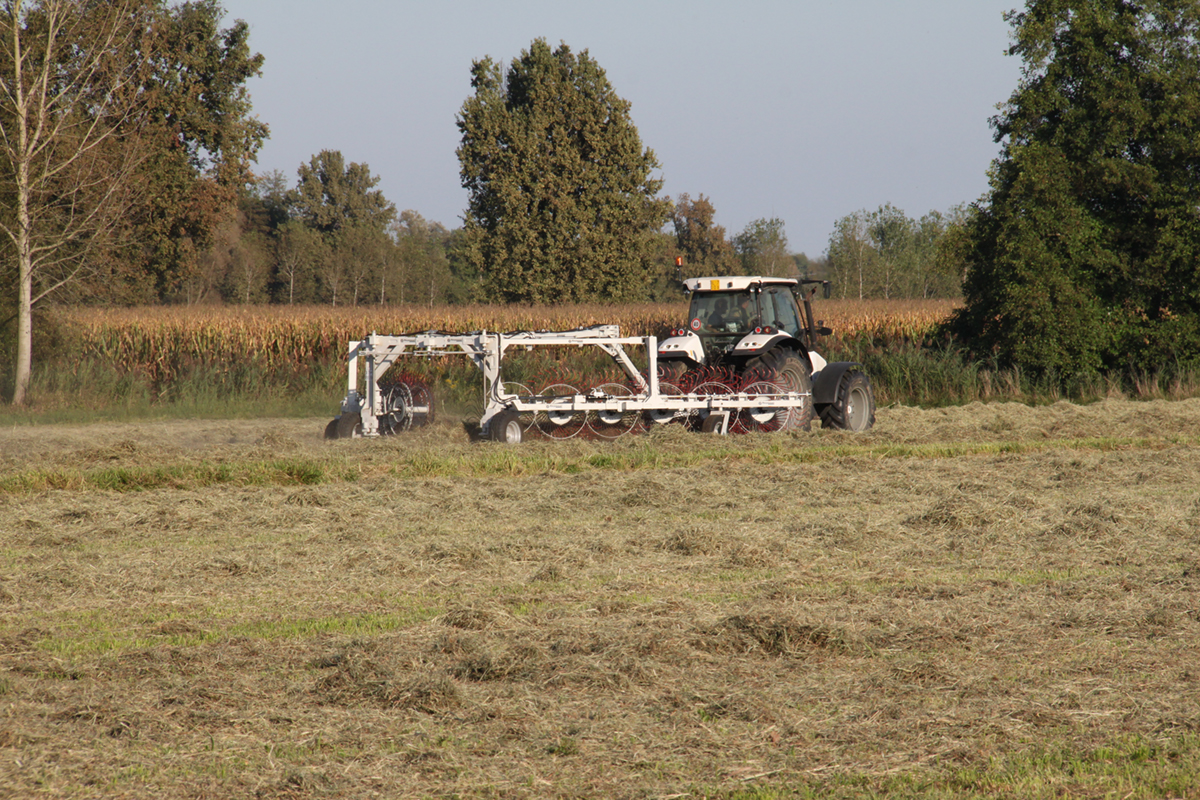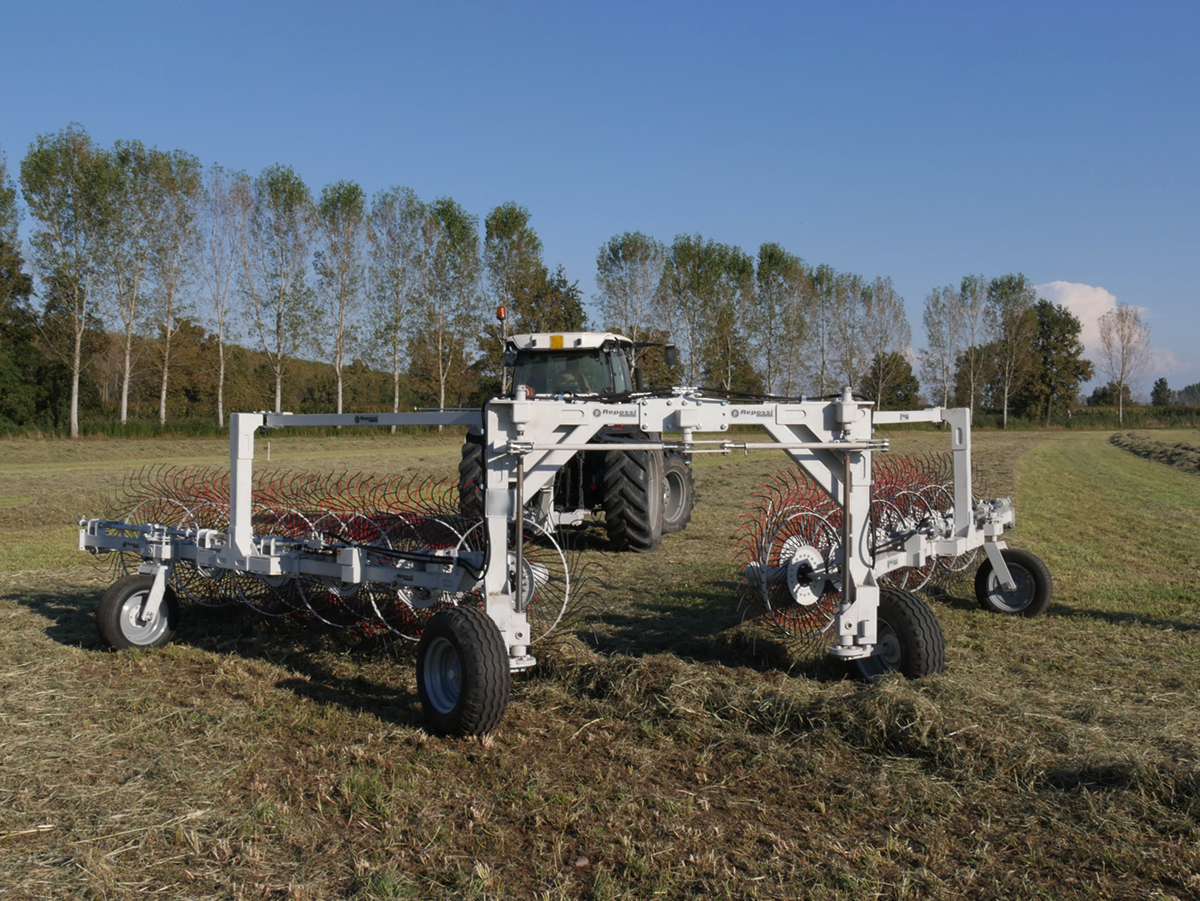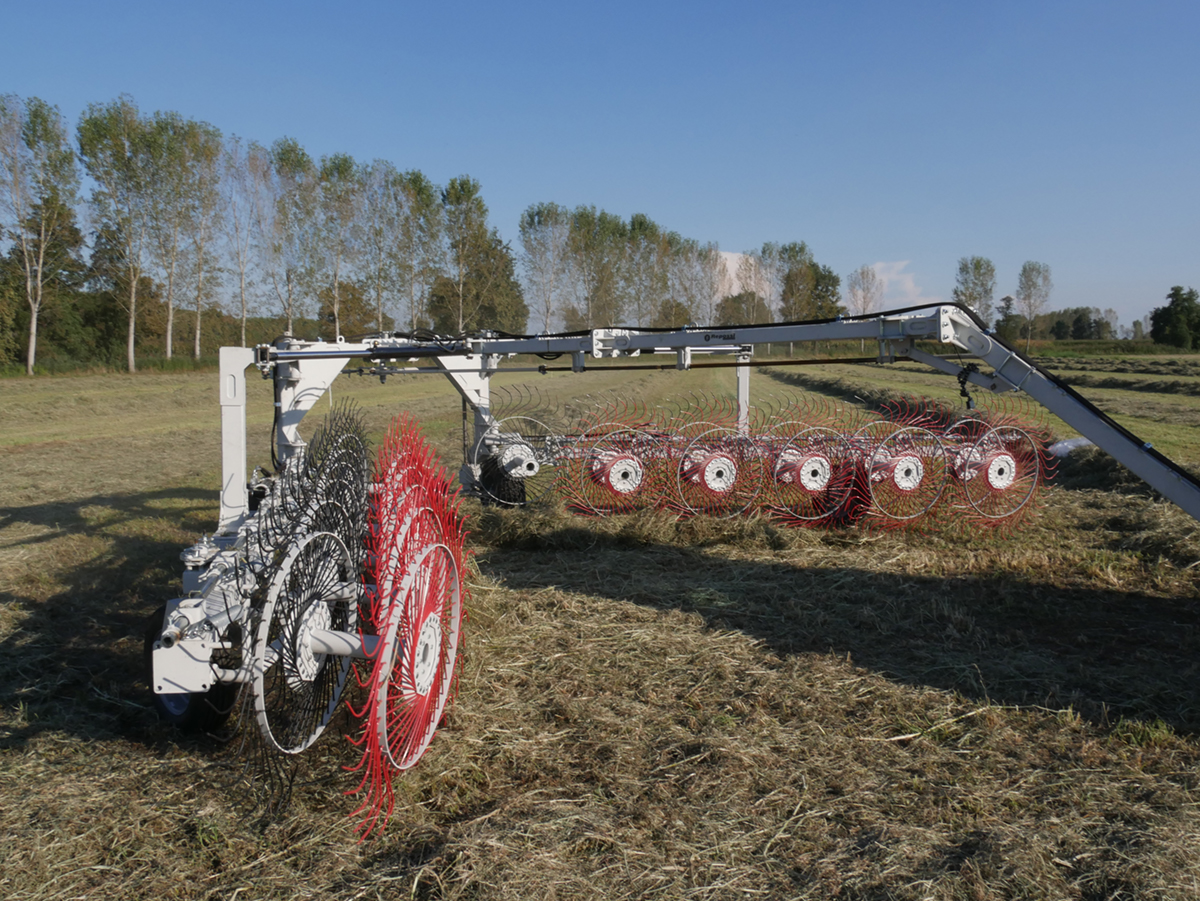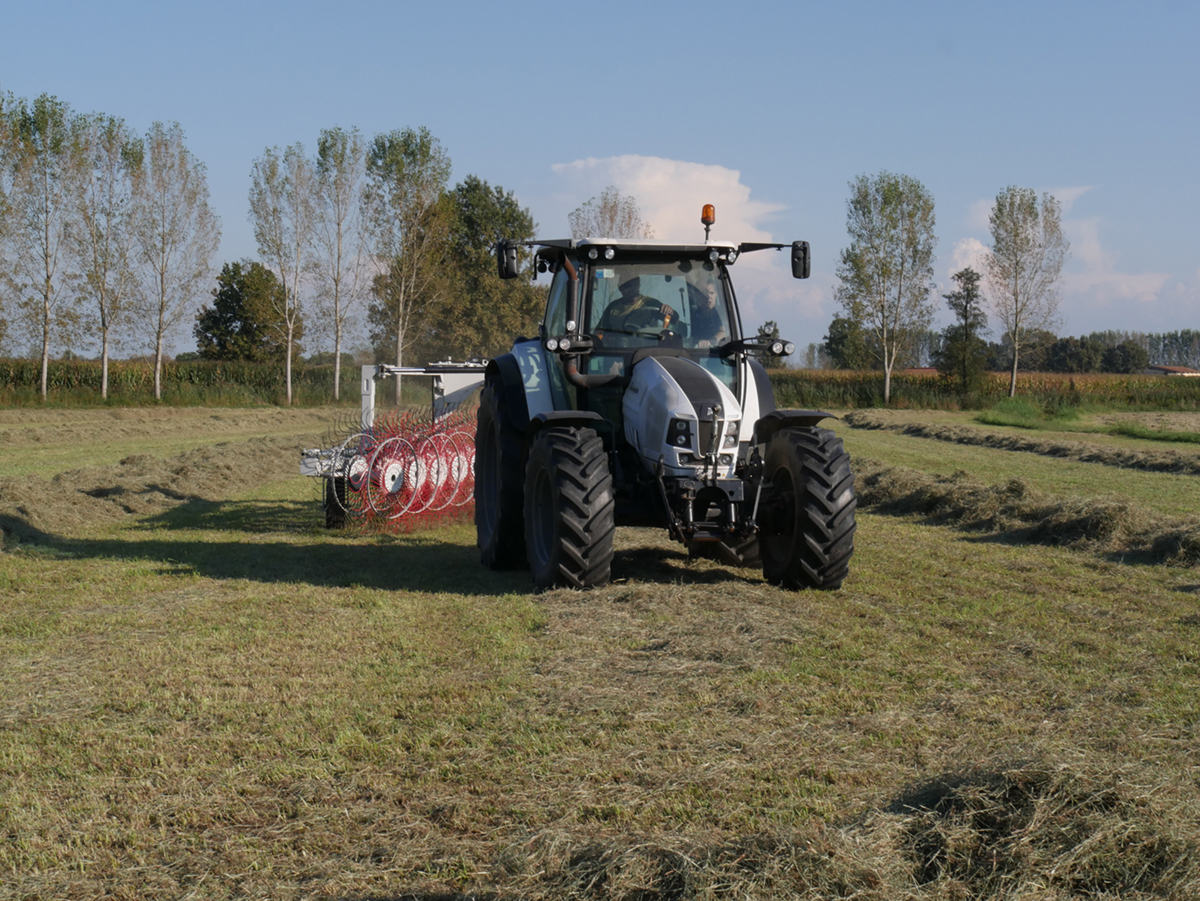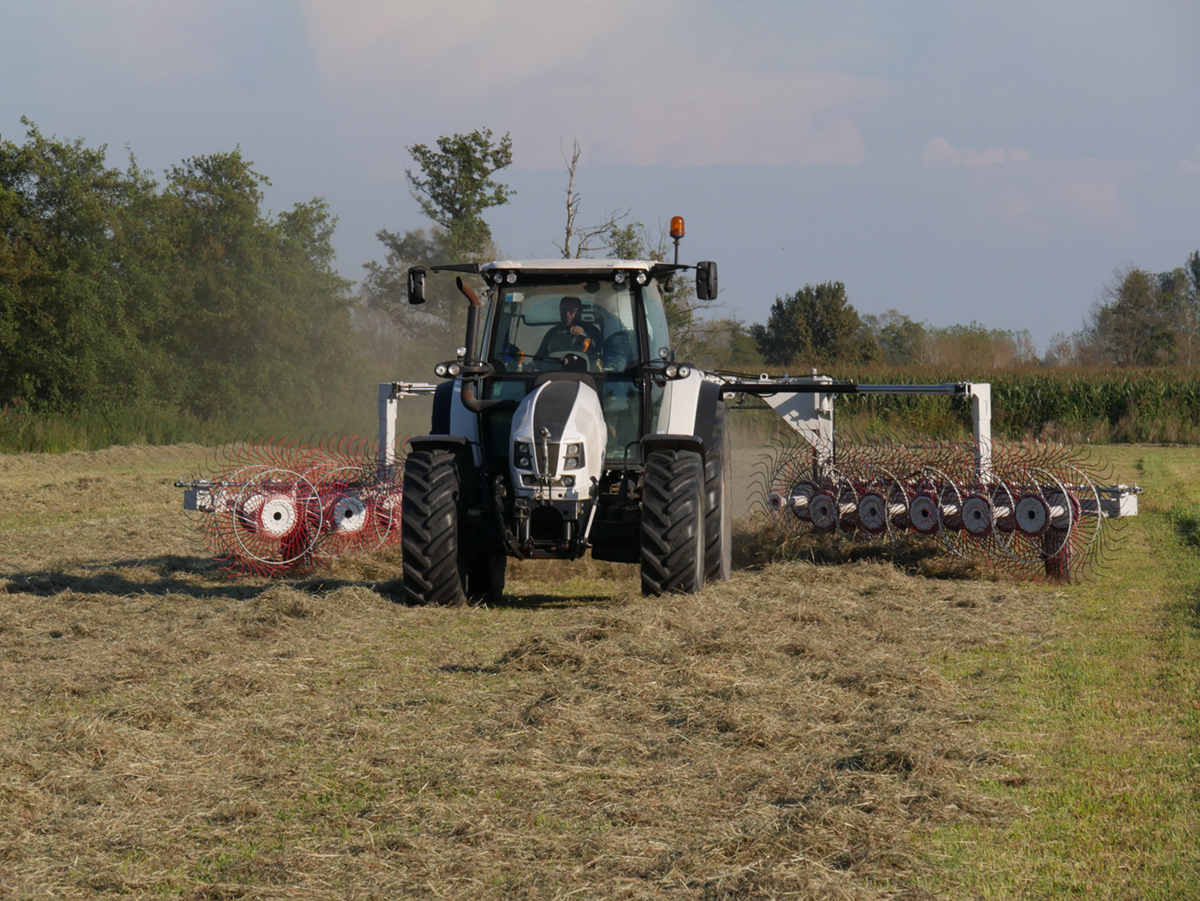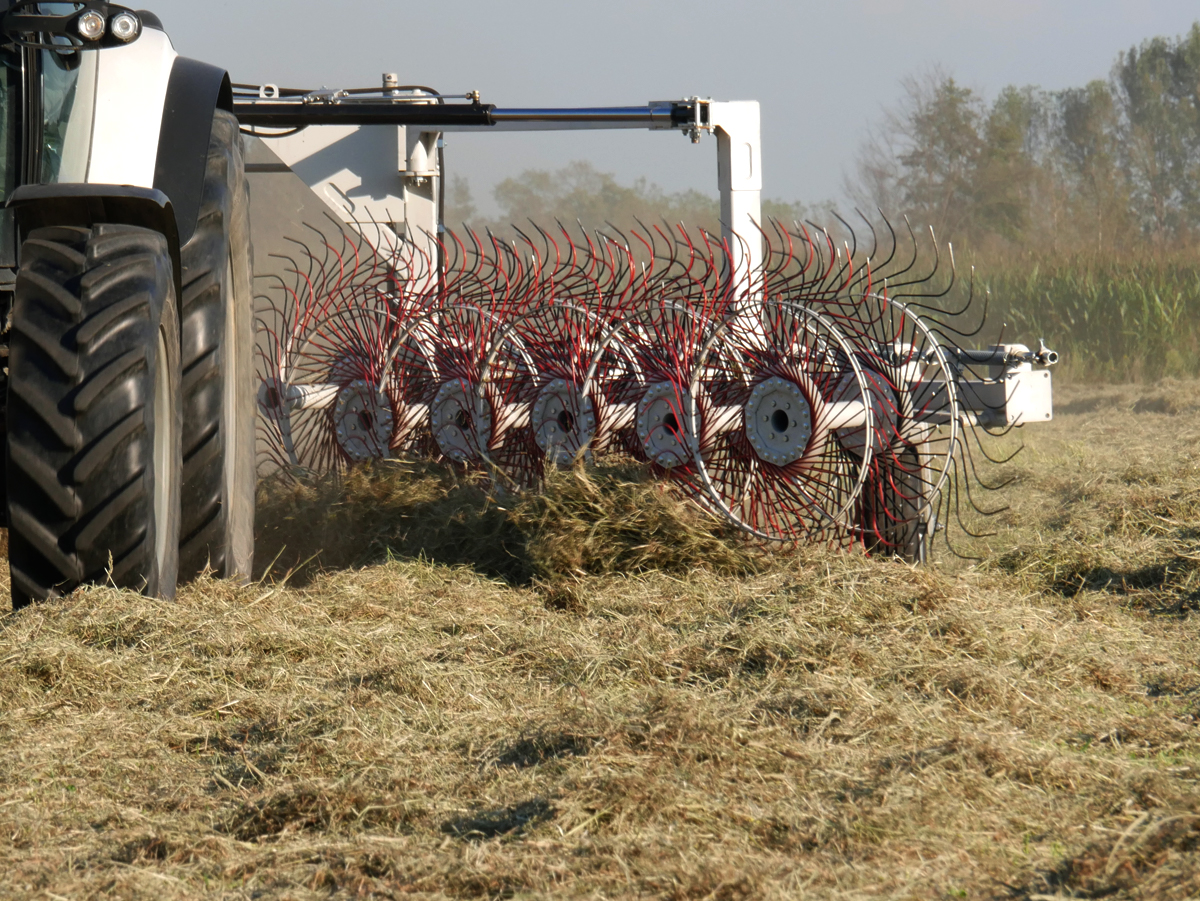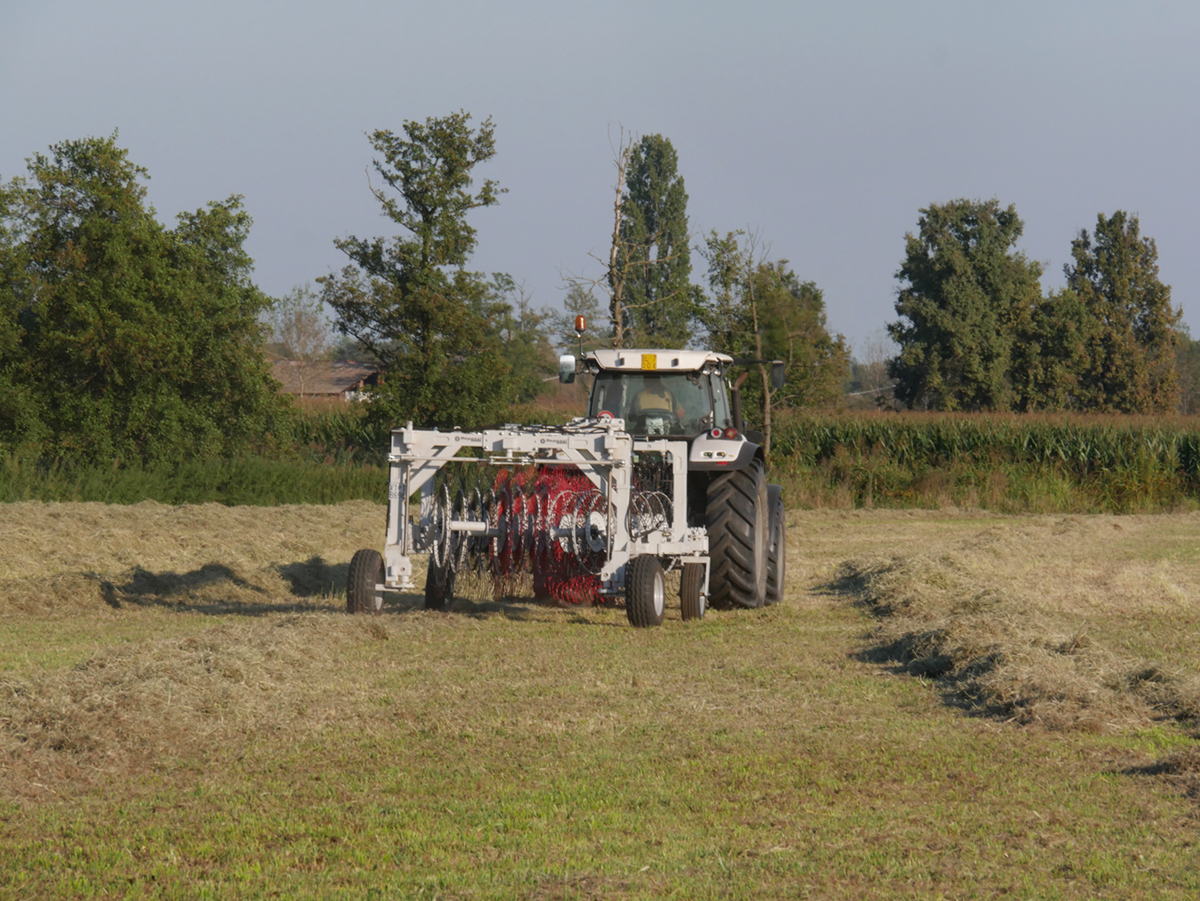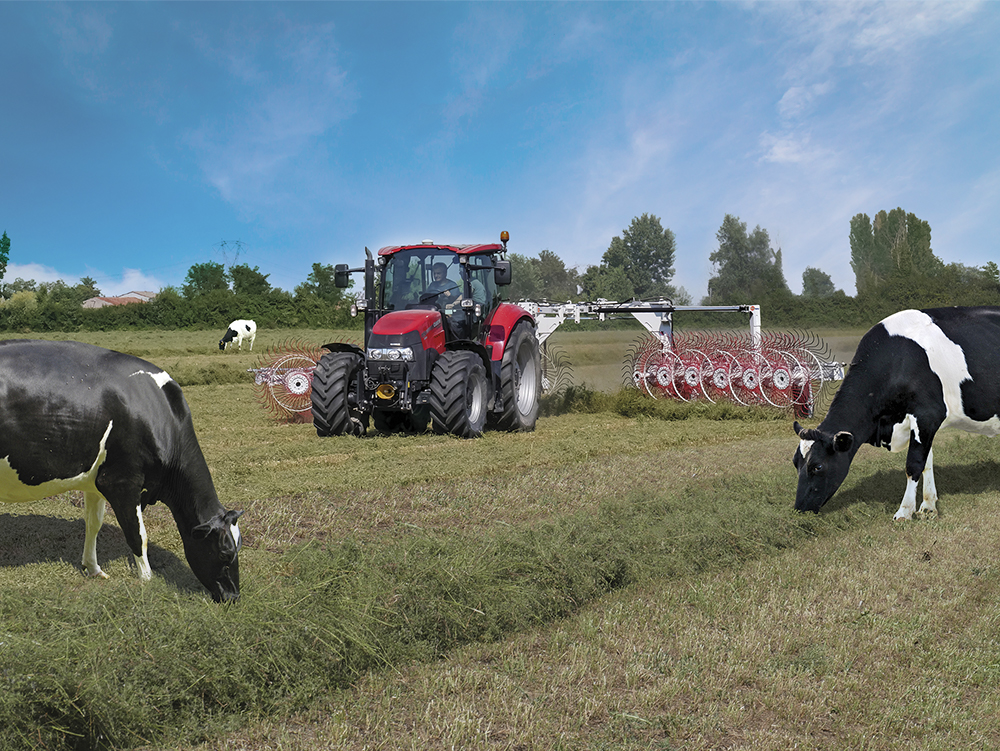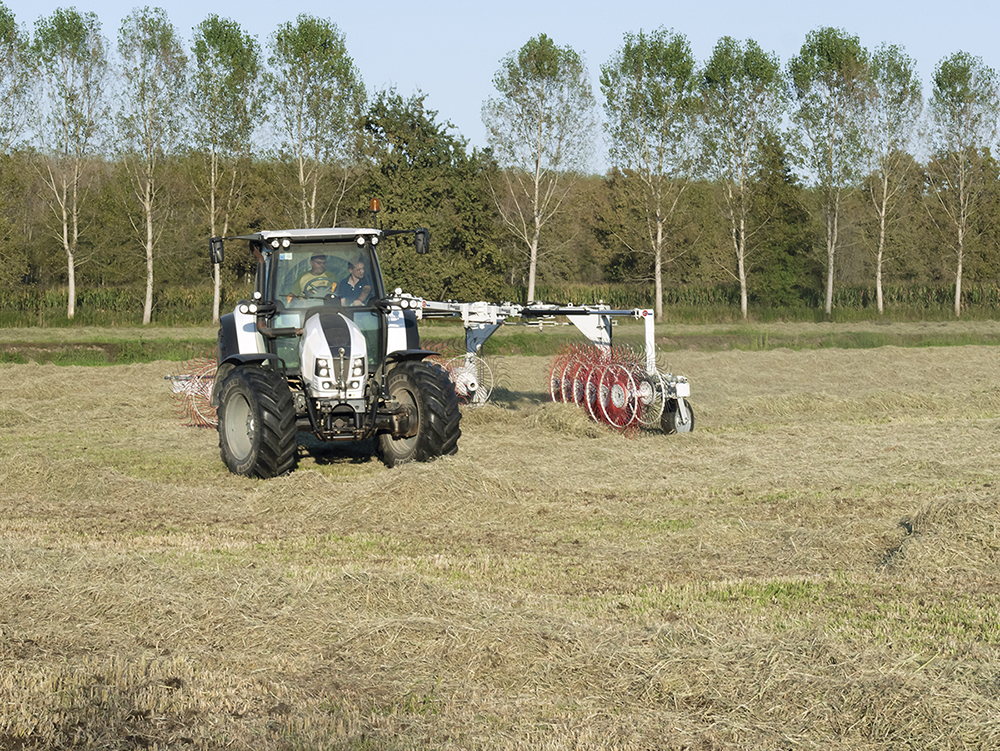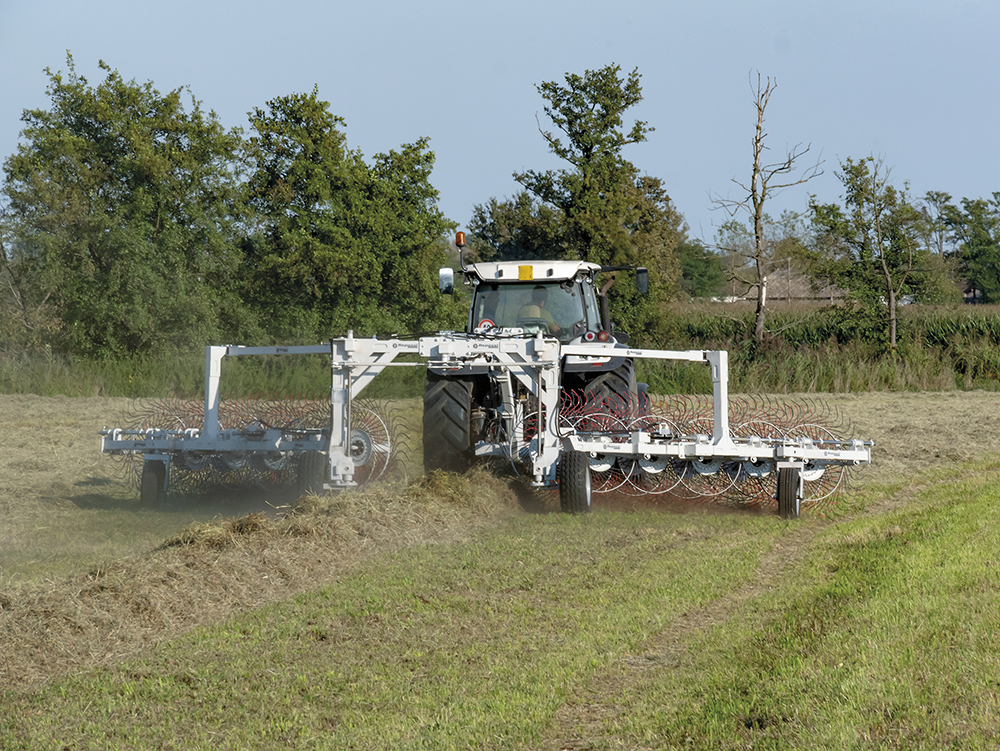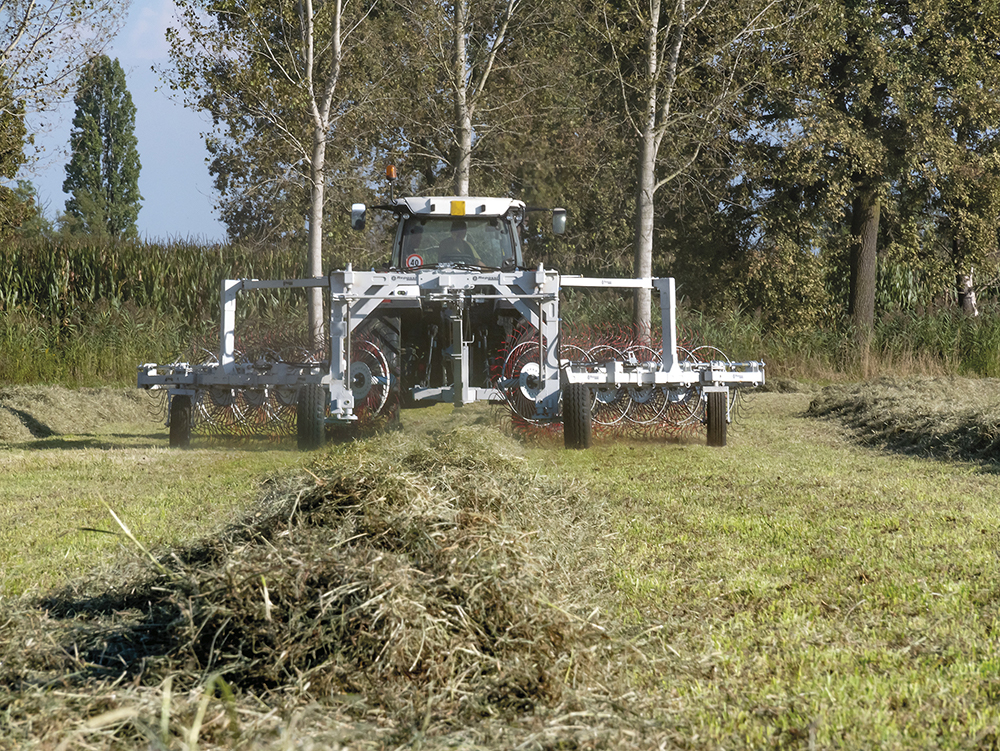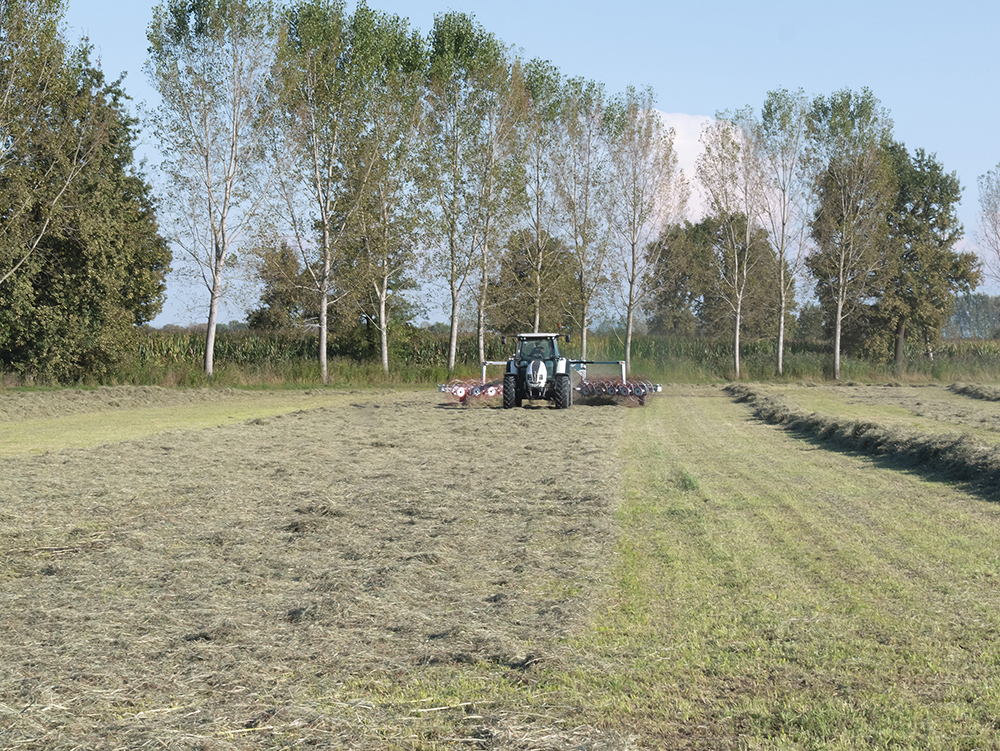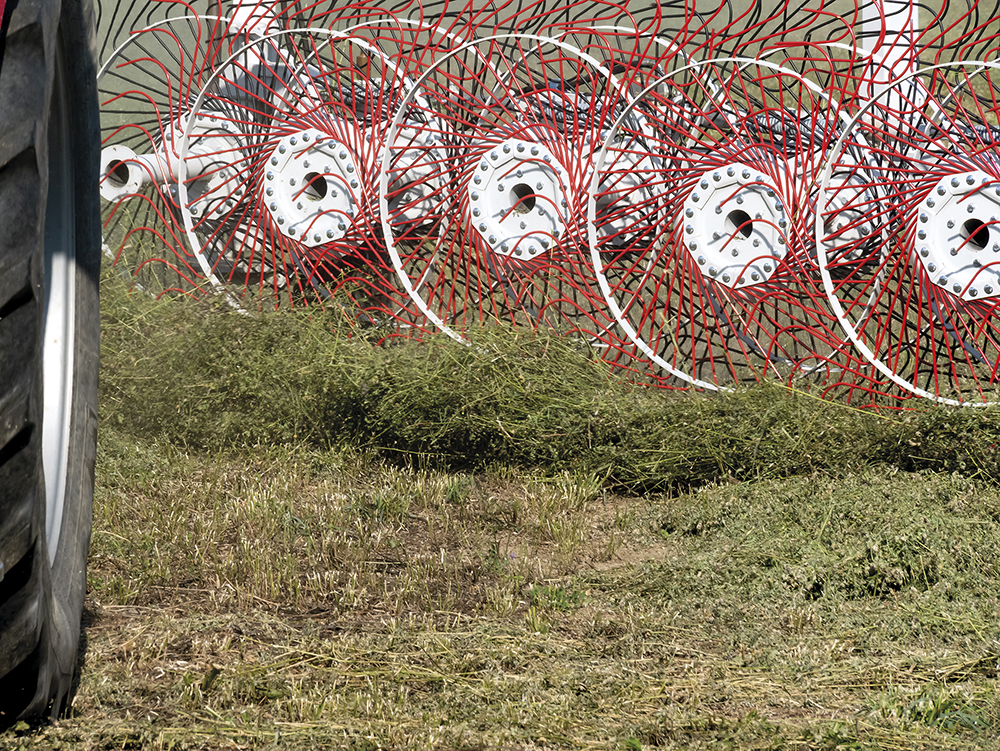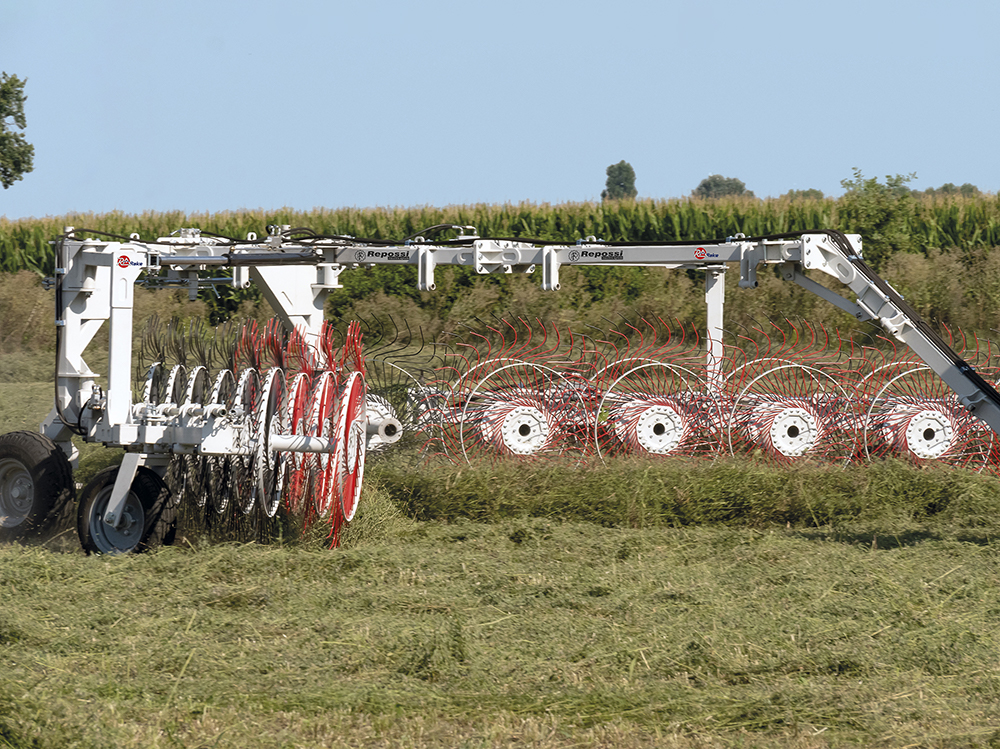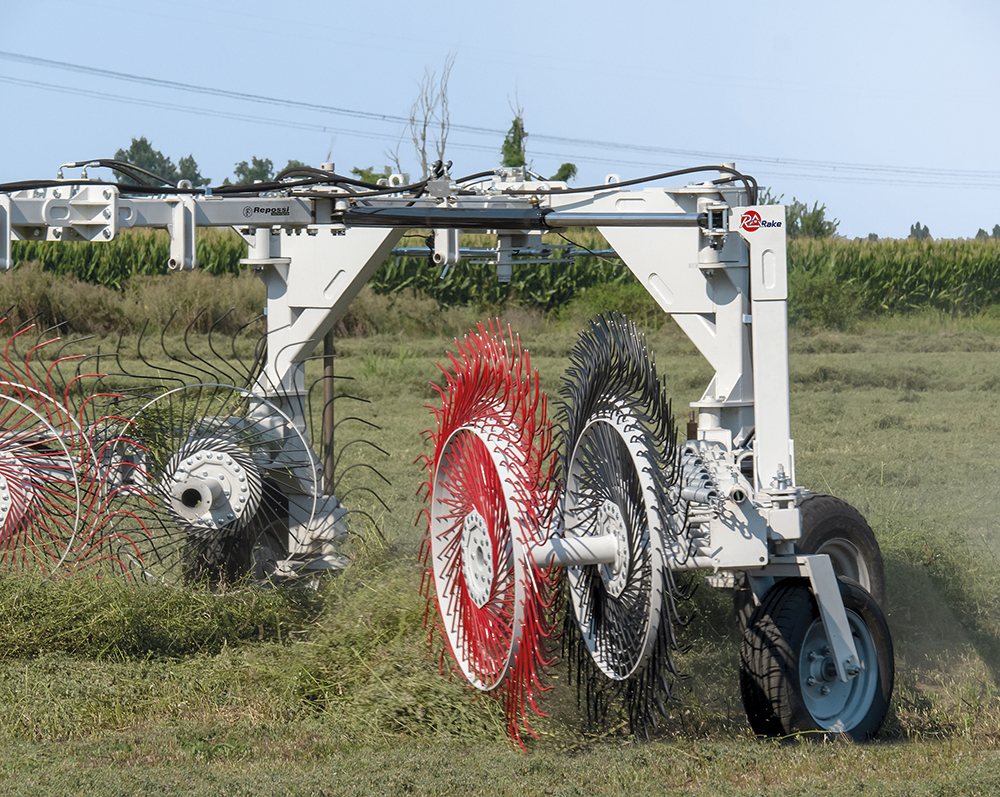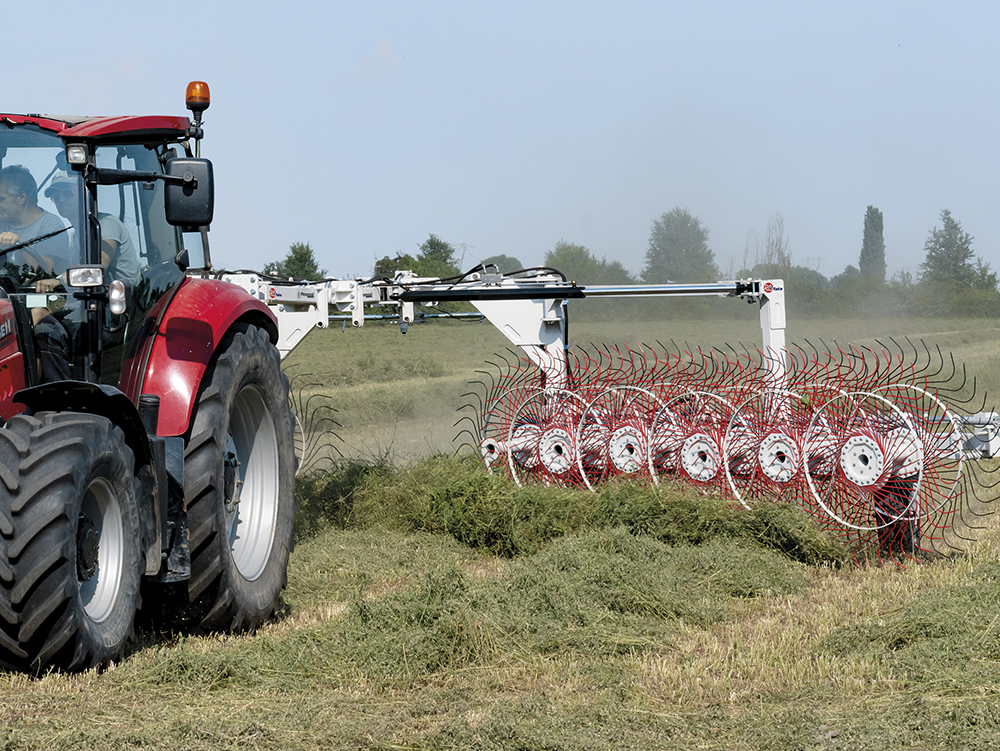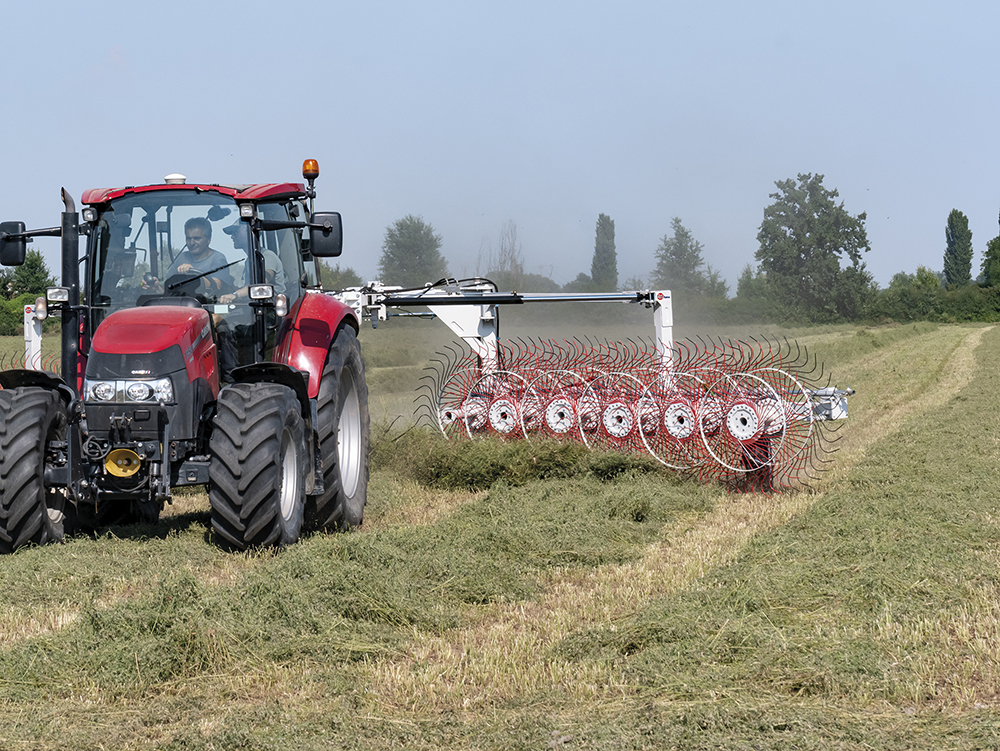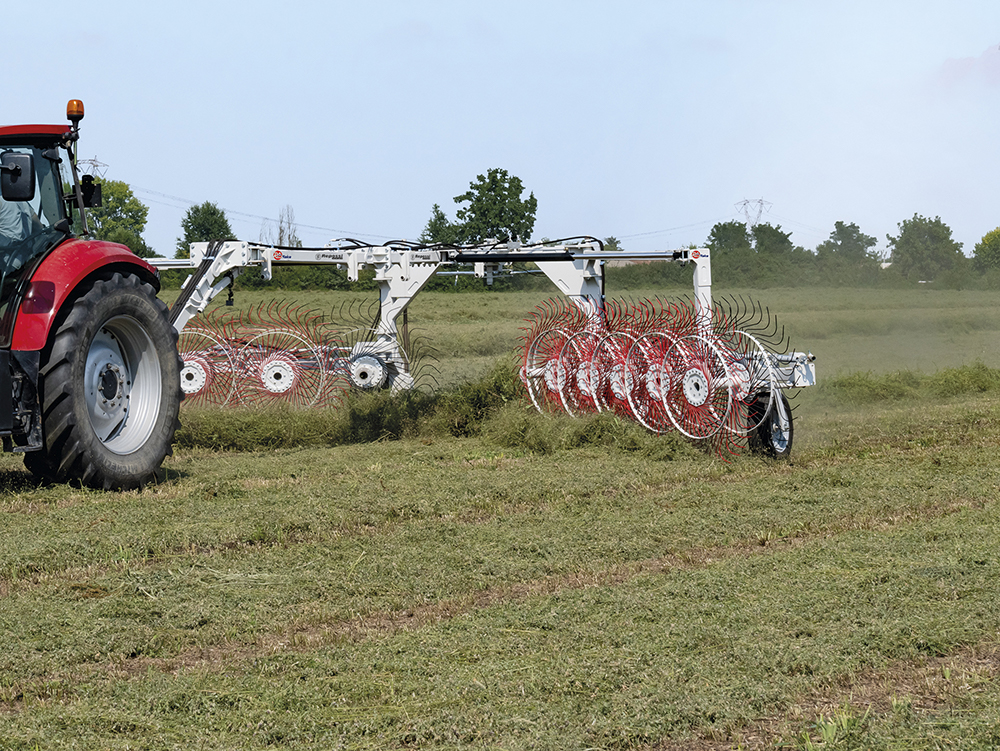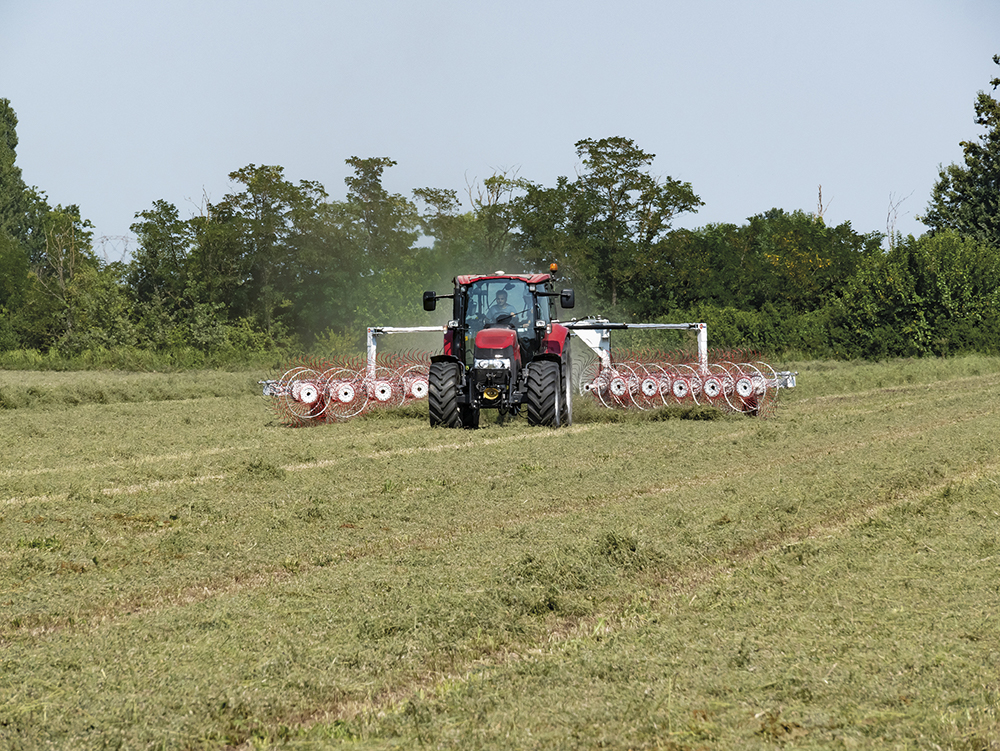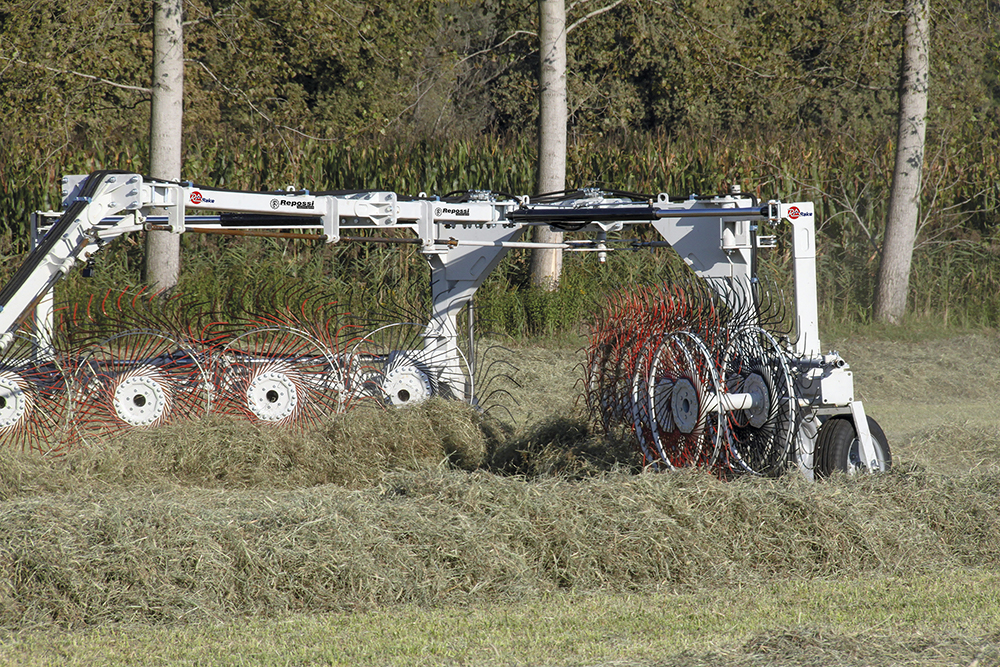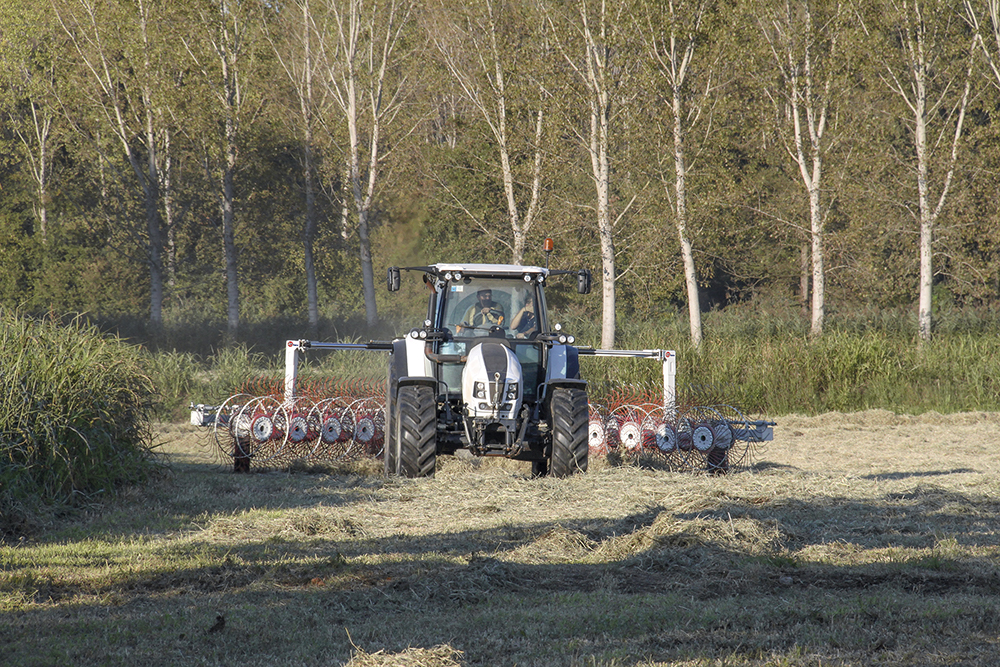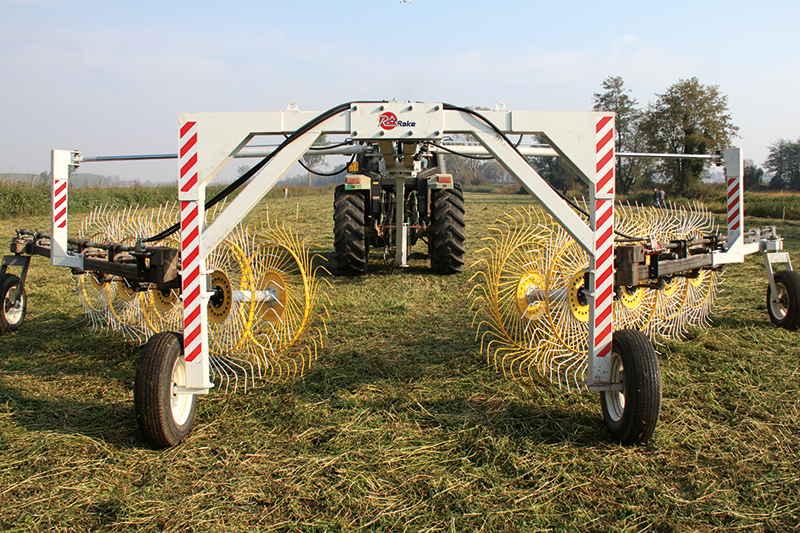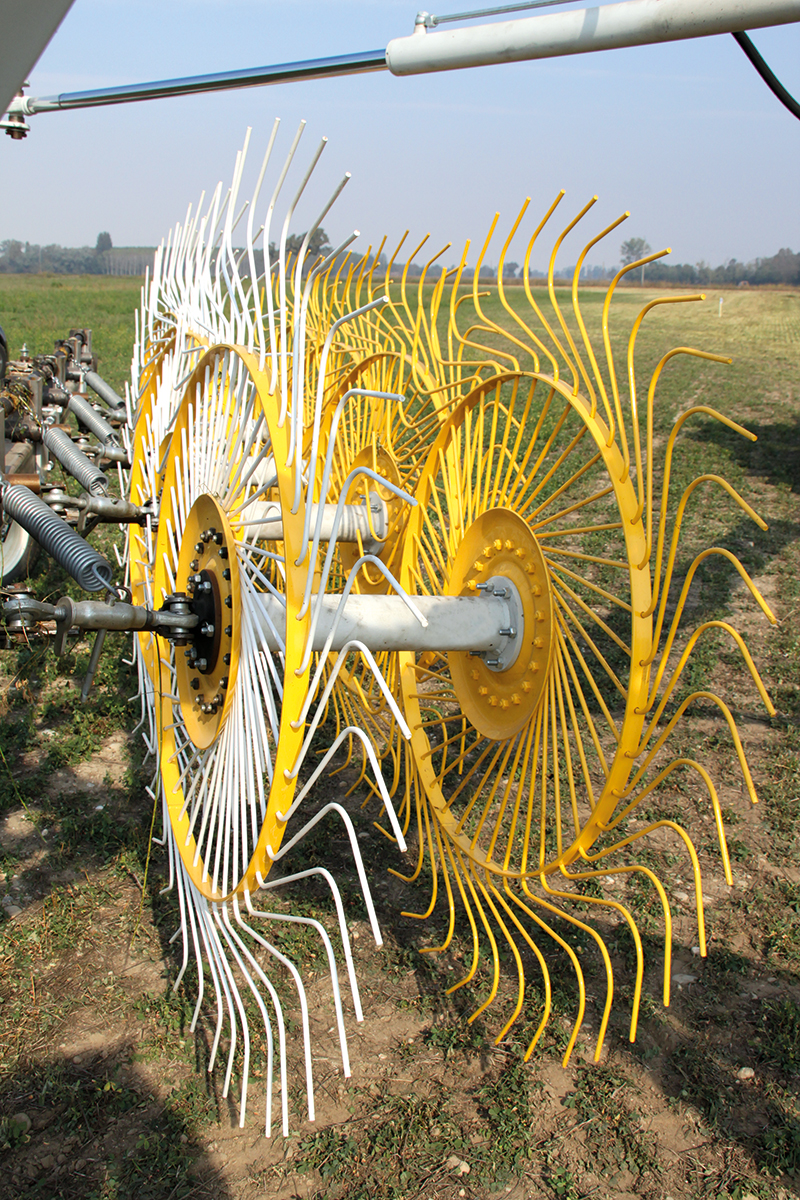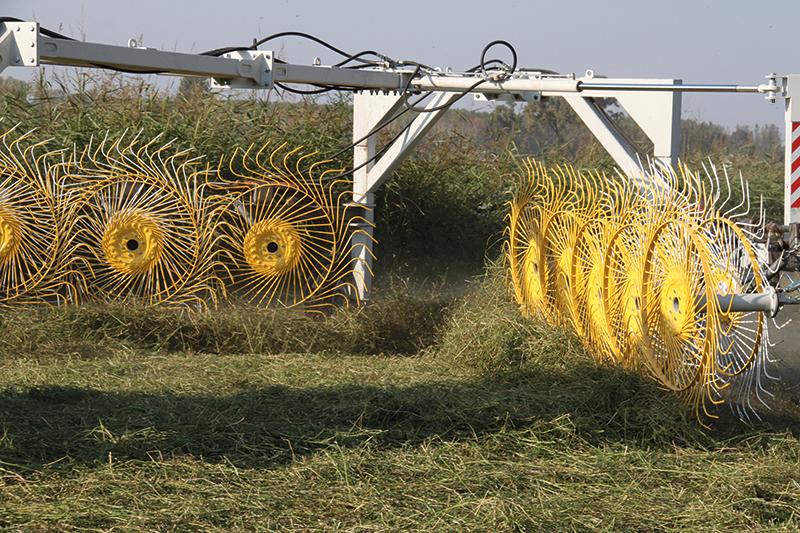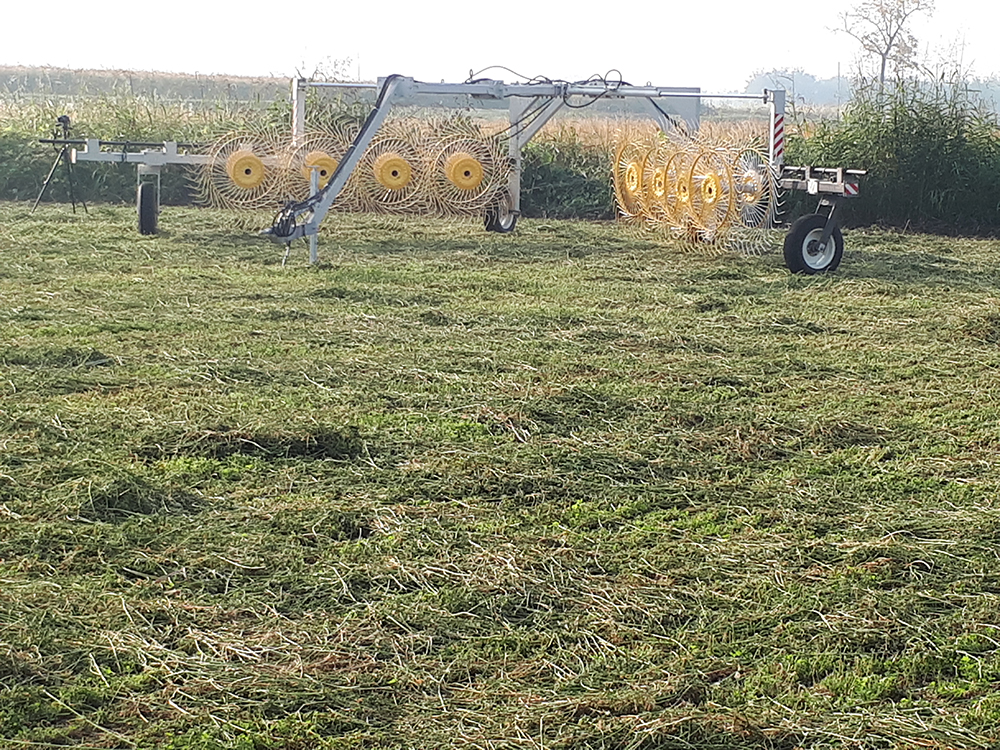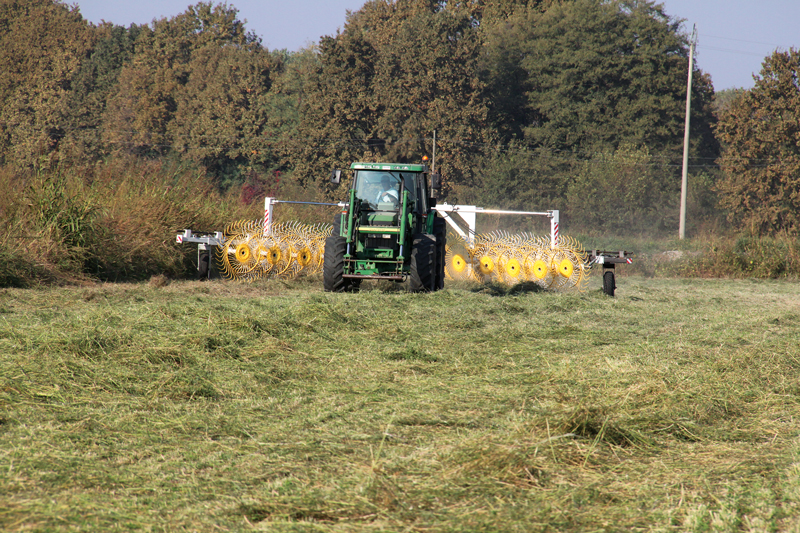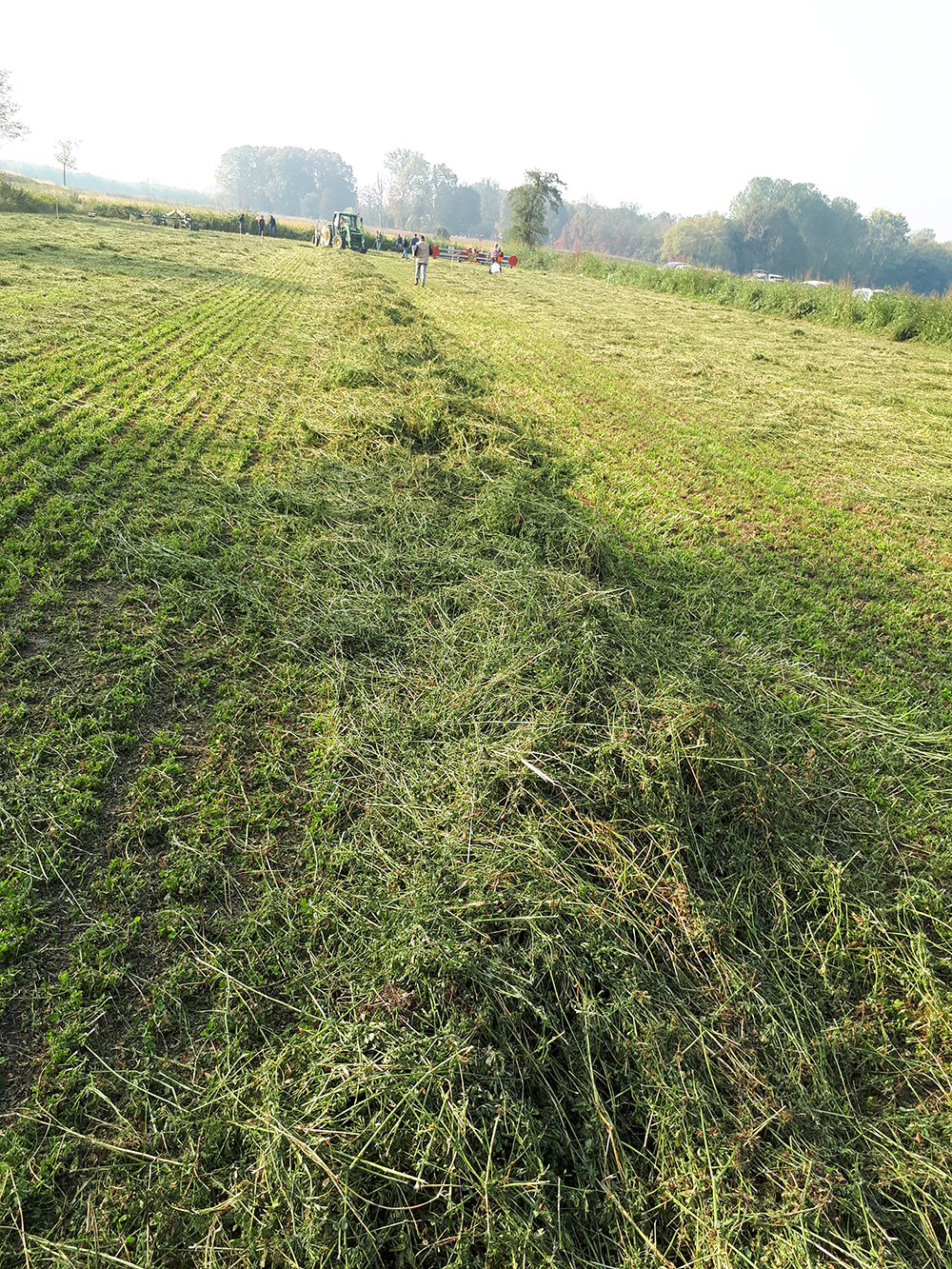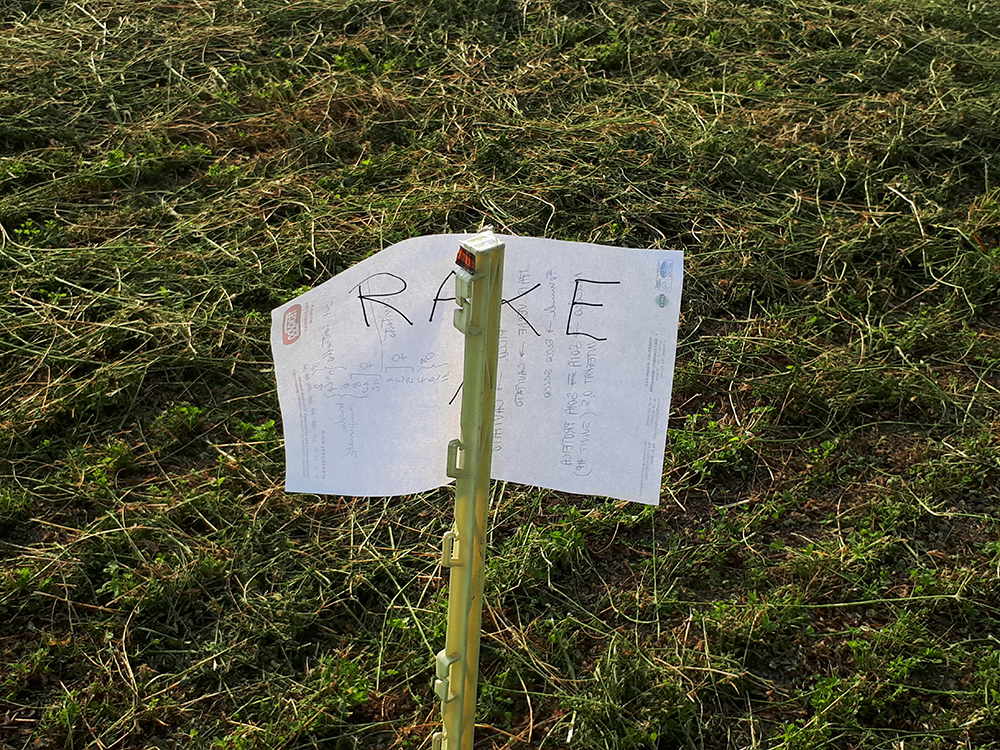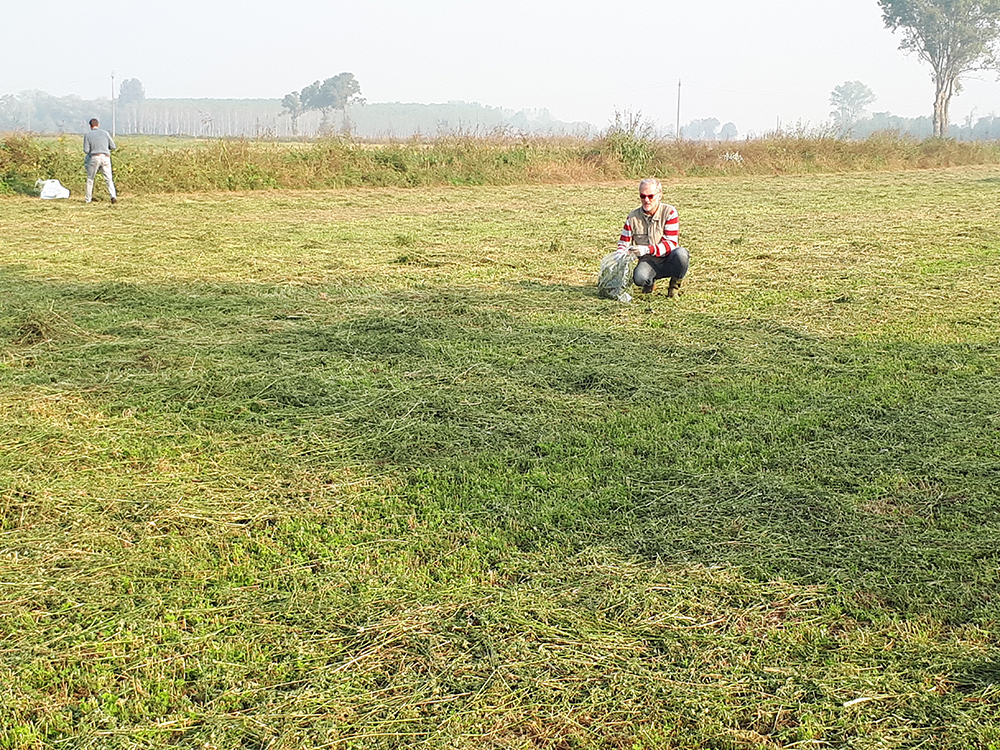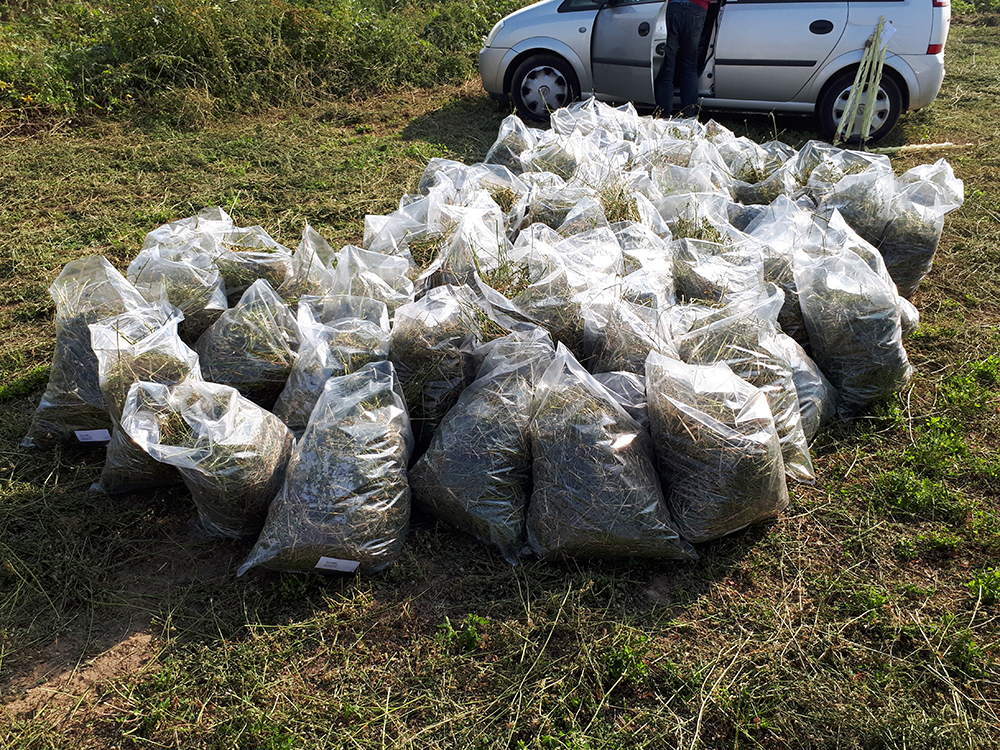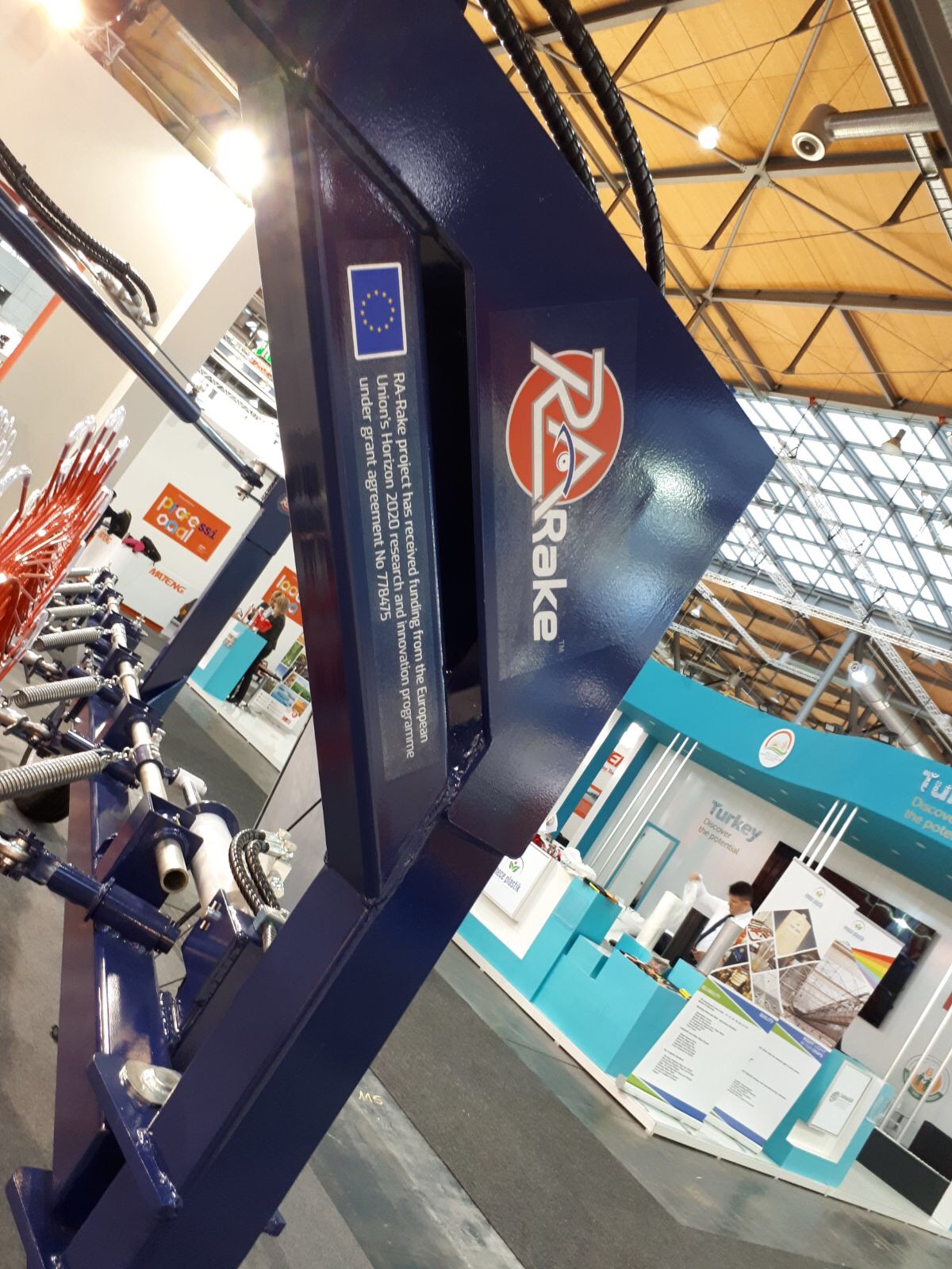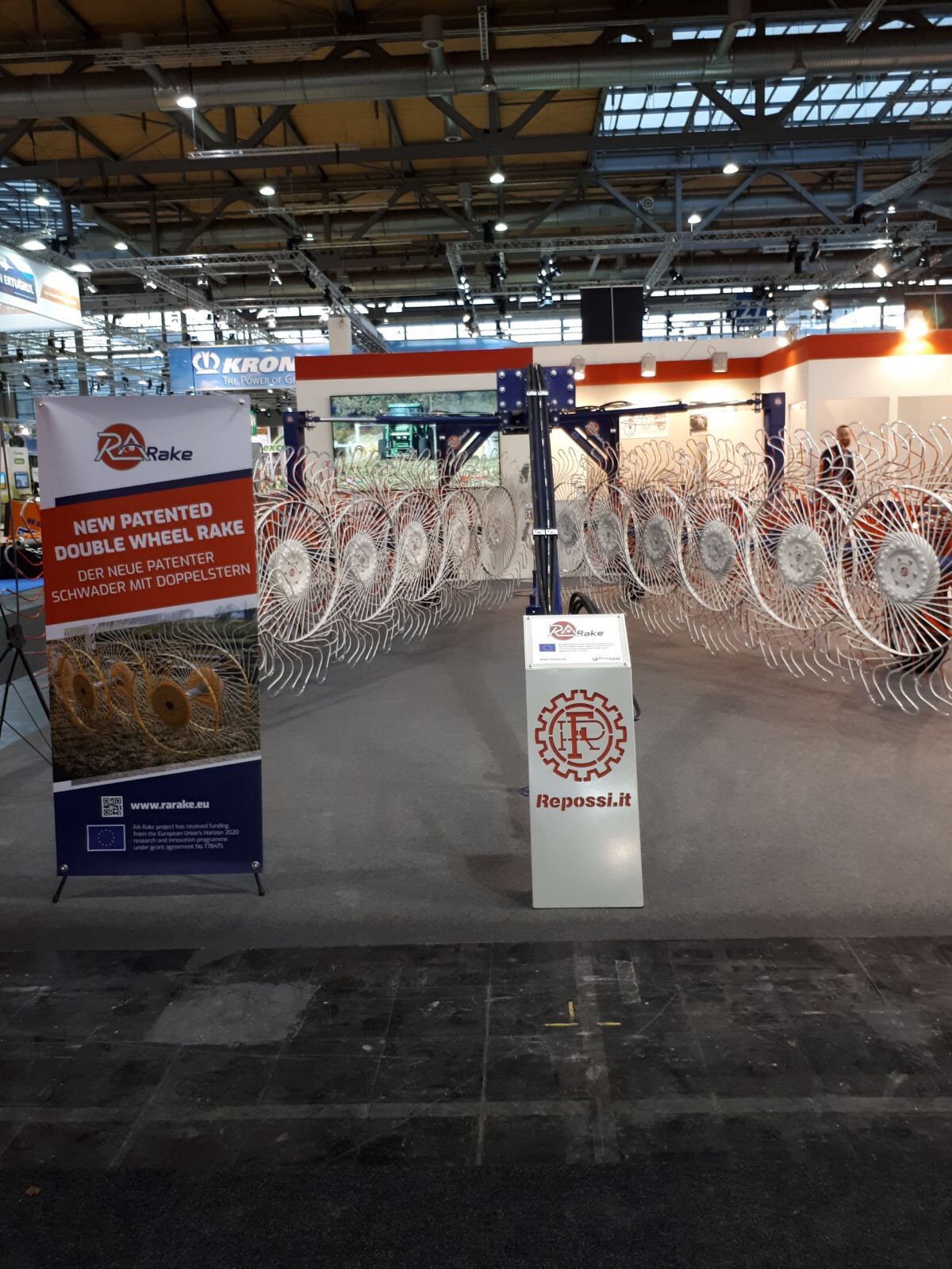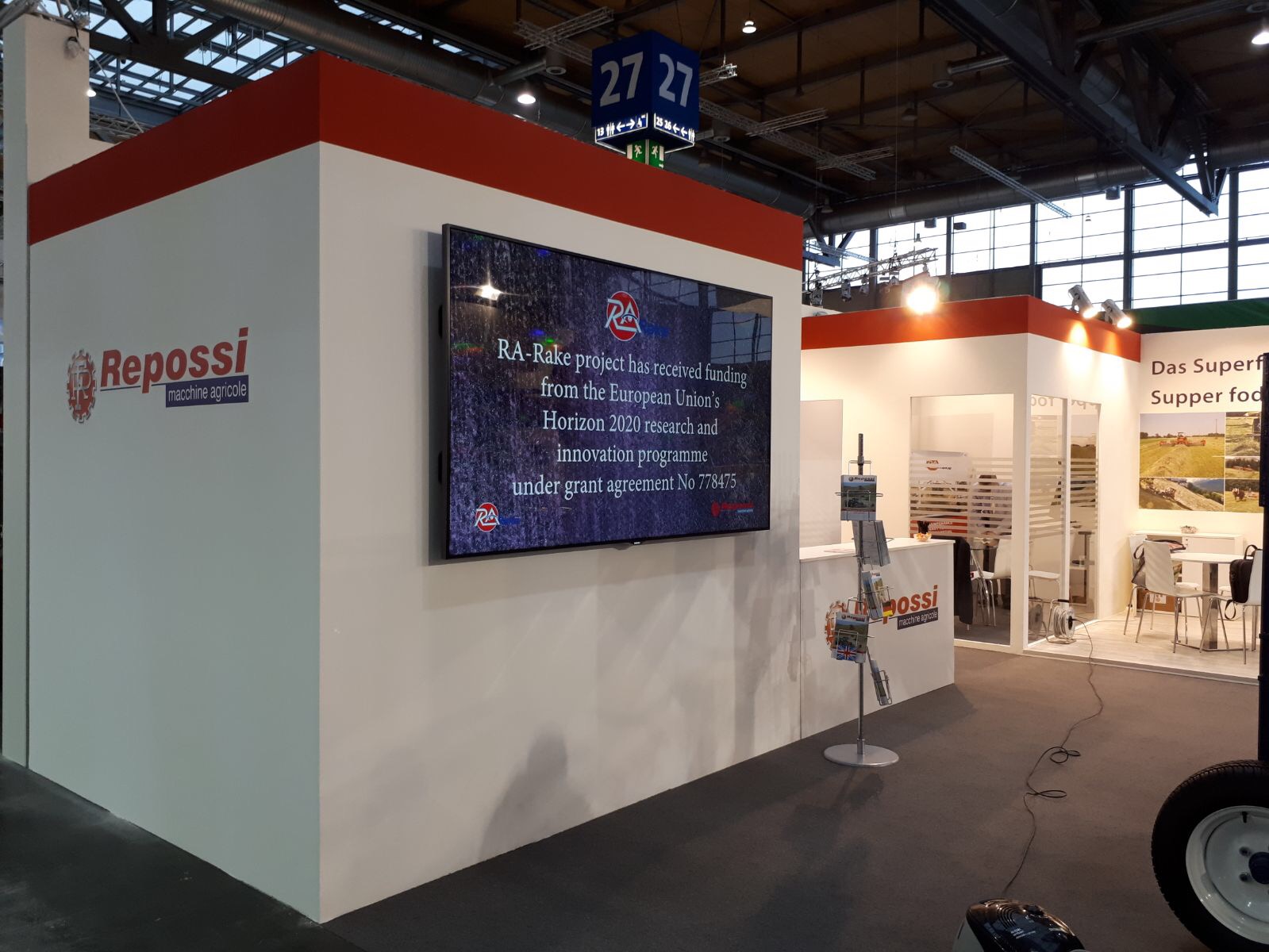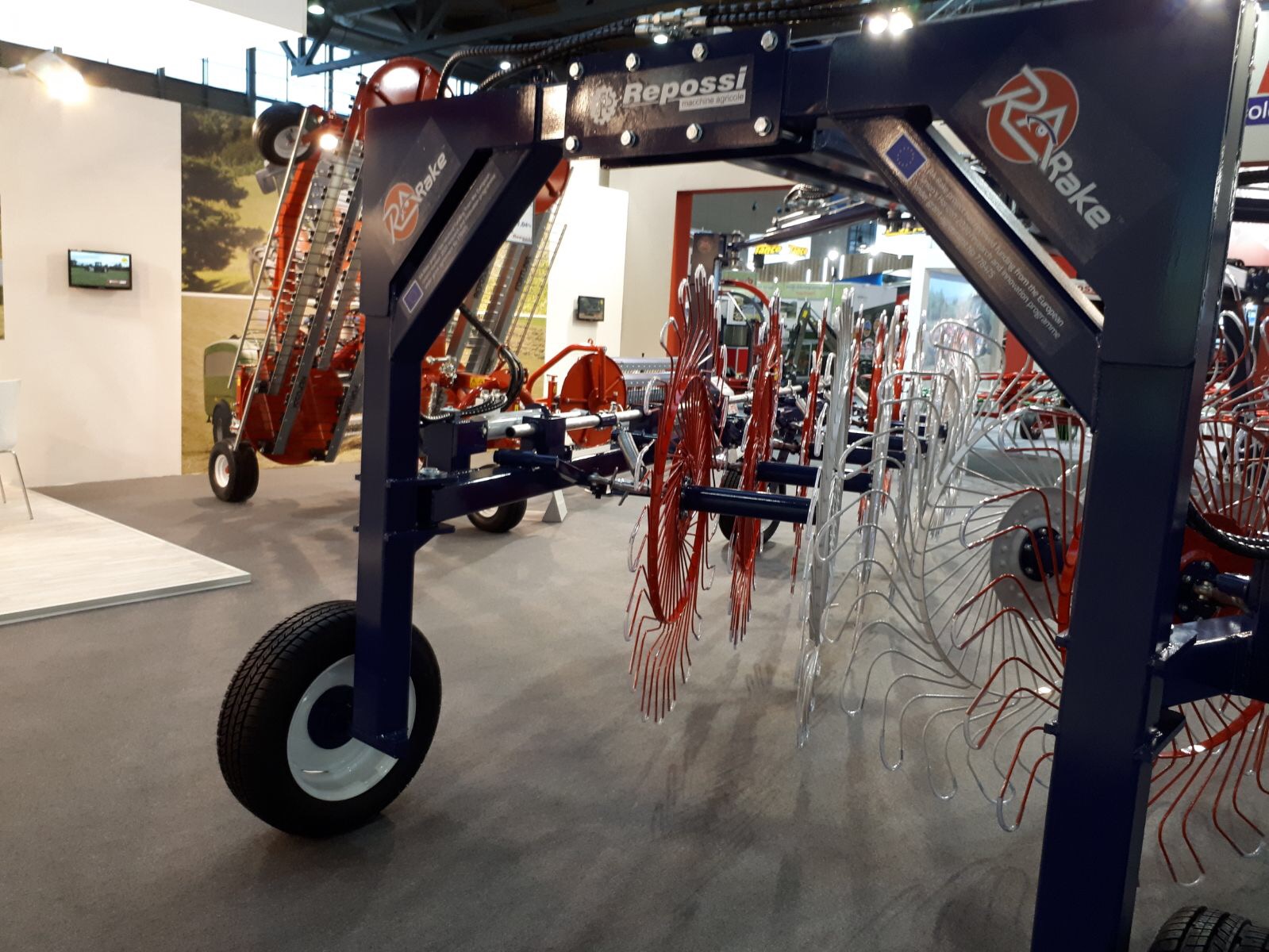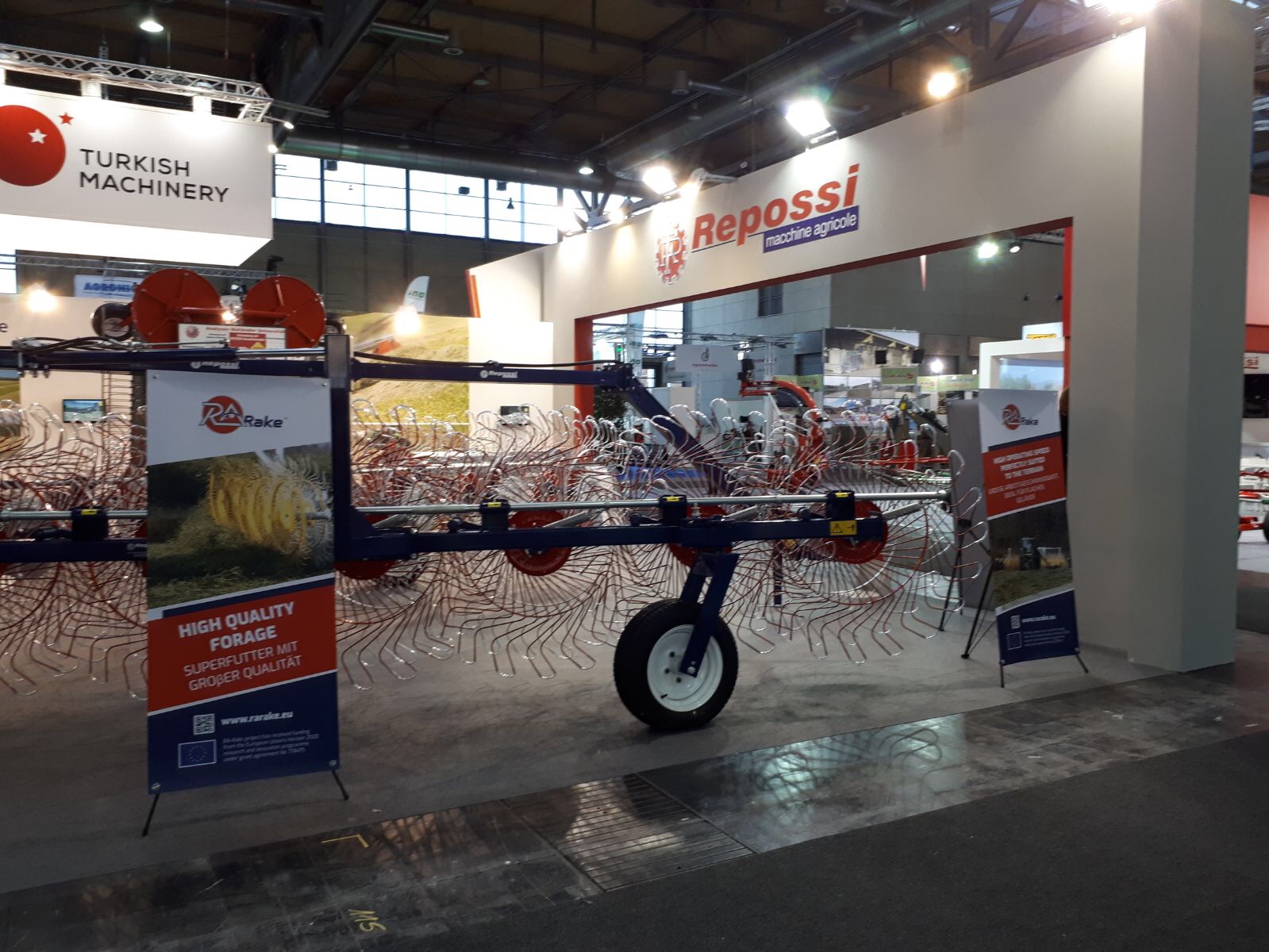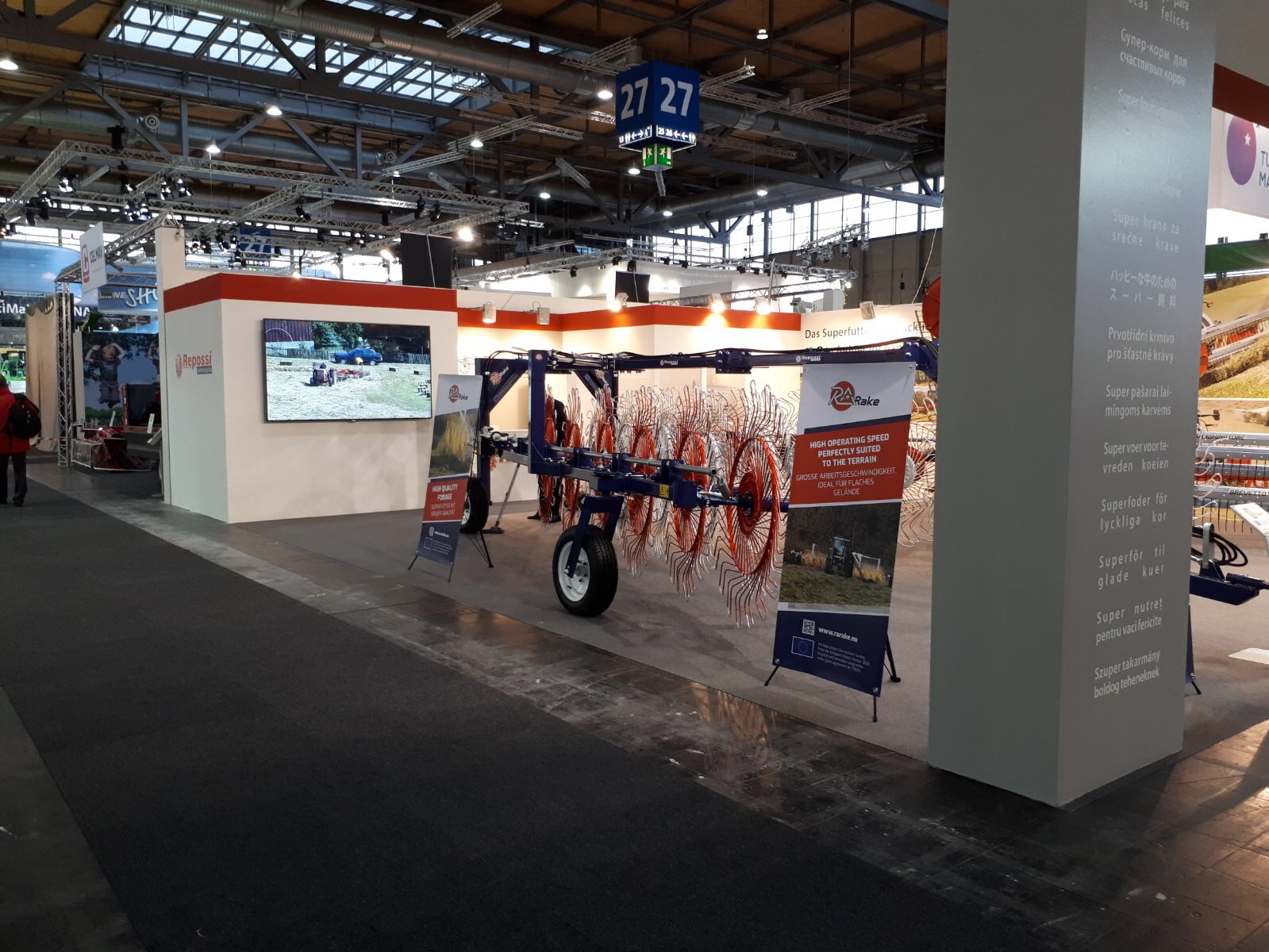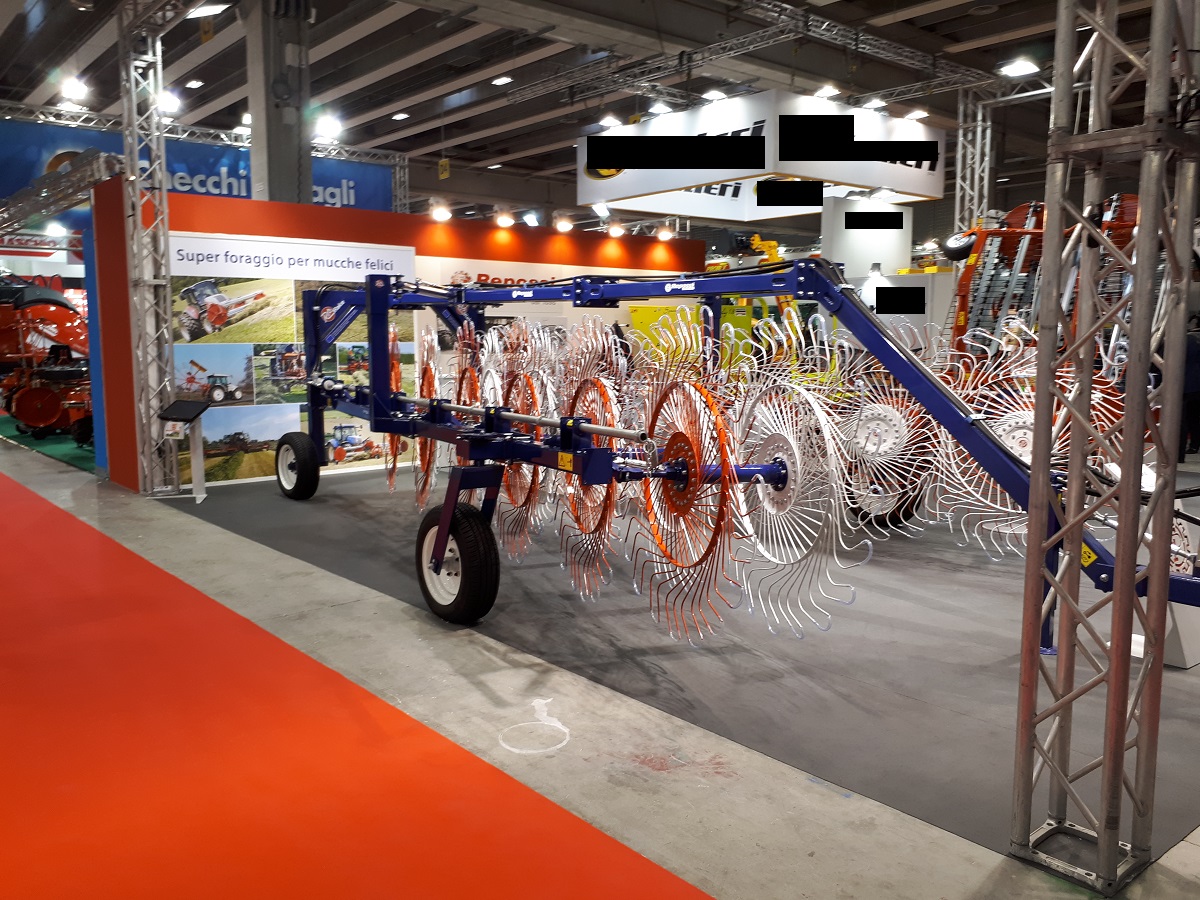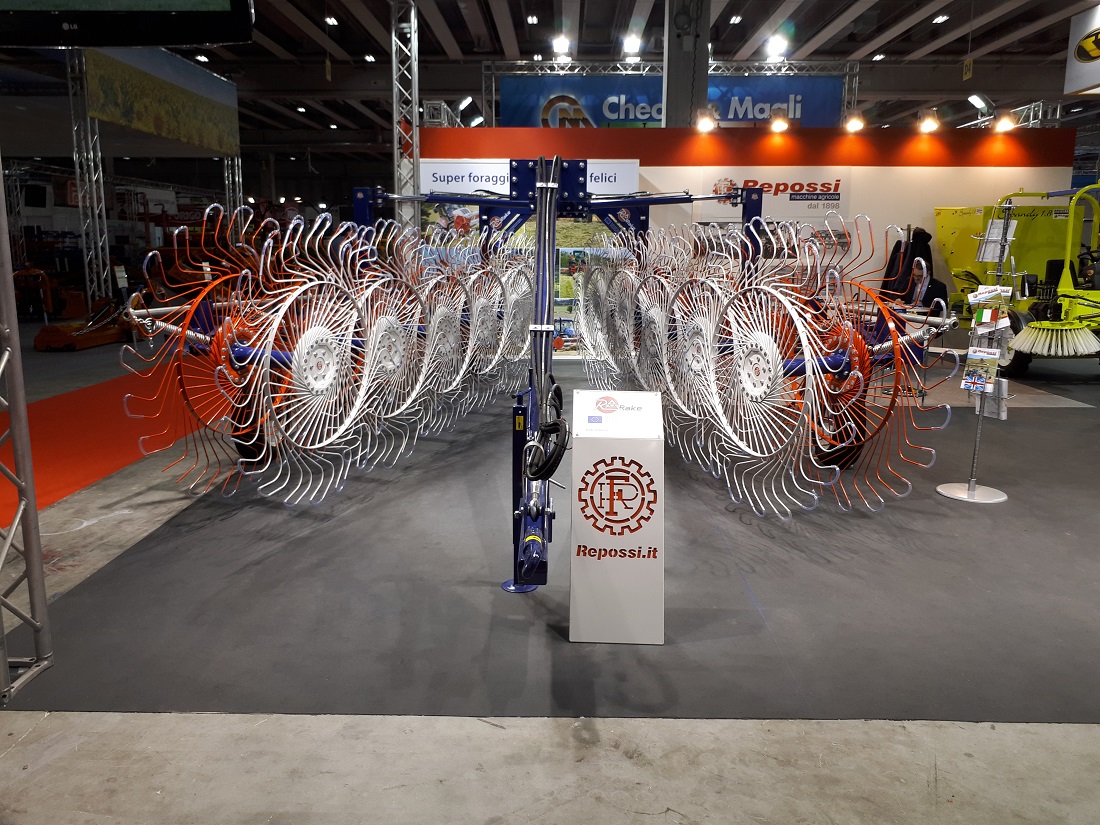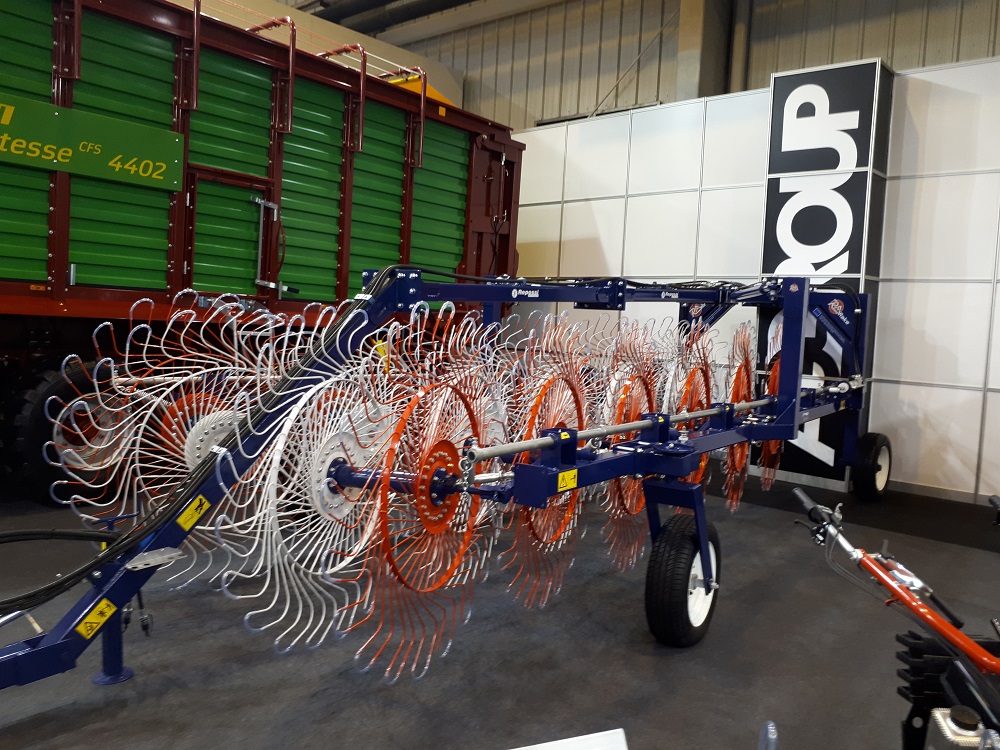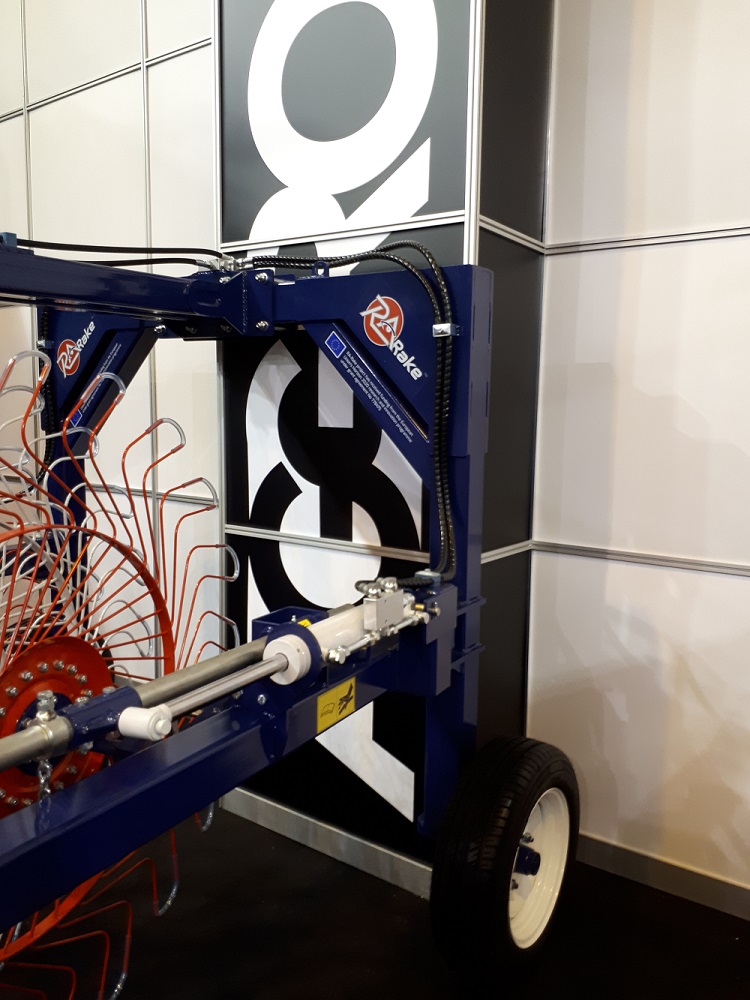 Repossi Macchine Agricole s.r.l.
Via V. Emanuele II, 40
Casorate Primo (PV) - Italy
P.IVA 01981040189
Phone

+39 02 9056625

Fax

+39 02 9051308
Privacy policy
INFORMATION COOKIES AND SITE NAVIGATION
This information is given to natural persons who access and consult the Repossi Macchine Agricole S.r.l. website, pursuant to art. 13 d. lgs. June 30, 2003 No. 196 – "Code regarding the protection of personal data" and art. 13 GDPR 679/16 – "European regulation on the protection of personal data".
Identity of the Owner
This website is managed by beSharp S.r.l., owner of the treatment of Repossi Macchine Agricole S.r.l. based in Casorate Primo, The Data Controller guarantees the security, confidentiality and protection of personal data in their possession, at any stage of the processing of the same. The personal data collected are used in compliance with Legislative Decree no. 196/2003 and GDPR 679/16.
Purpose of the treatment
The computer systems and software procedures used to operate this website acquire, during their normal operation, some personal data whose transmission is implicit in the use of internet communication protocols. This is information that is not collected to be associated with identified interested parties, but which by their very nature could, through processing and association with data held by third parties, allow users to be identified. This category of data includes IP addresses or domain names of the computers used by users connecting to the site, the addresses in the Uniform Resource Identifier (URI) notation of the requested resources, the time of the request, the method used to submit the request to the server, the size of the file obtained in response, the numerical code indicating the status of the response given by the server (successful, error ..) and other parameters related to the operating system and the user's computer environment. These data are used for the sole purpose of obtaining anonymous statistical information on the use of the site and to check its correct functioning and are deleted immediately after processing. The data could be used to ascertain responsibility in case of hypothetical computer crimes against the site.
Legal basis of the processing
The use of technical cookies is a processing carried out in the legitimate interest of the owner; the use of analytical cookies is carried out with the consent of the interested party.
Recipients of the data
The Data Controller does not communicate any personal identification data or information to third parties unless, as necessary and as strictly necessary, to those who act as suppliers for the provision of services relating to the management of the website and for the consequent management of the contractual relationship and related administrative obligations.
Data transfer
The Data Controller does not transfer personal data to third countries or to international organizations.
Data retention
The Data Controller retains the data for the time necessary to obtain anonymous statistical information on the use of the site and to check its correct functioning. The data is deleted immediately after processing.
Rights of the interested party
With reference to art. 7 of Legislative Decree 196/2003 and Articles 15 – right of access, 16 – right of rectification, 17 – right to cancellation, 18 – right to limitation of treatment, 20 – right to portability, 21 – right of opposition, 22 right to oppose the automated decision-making process of GDPR 679 / 16, the interested party exercises his rights by writing to the Data Controller at the address above, or by email, specifying the subject of his request, the right that he intends to exercise and attaching a photocopy of an identity document attesting the legitimacy of the request.
Withdrawal of consent
With reference to art. 23 of Legislative Decree no. 196/2003 and art. 6 of the GDPR 679/16, the interested party can withdraw the consent at any time.
Complaint proposal
The data subject has the right to lodge a complaint with the supervisory authority of the state of residence.
Refusal to provide data
The interested party can refuse to give the Owner his navigation data. To do this, you must disable cookies by following the instructions provided by your browser. Disabling cookies may make navigation and use of the site's features worse.
Automated decision-making processes
The Data Controller does not process treatments consisting of automated decision-making processes.
Types of cookies
Cookies are information entered on the user's browser when you visit a website or use a social network with your PC, smartphone or tablet. Each cookie contains different data such as, for example, the name of the server it came from, a numerical identifier, etc. Cookies may remain in the system for the duration of a session (ie until you close the browser used for web browsing) or for long periods and they can contain a unique identification code.
Technical cookies
Some cookies are used to perform computer authentication, monitoring sessions and storing specific information about users accessing a web page. These cookies, so-called technical, are often useful, because they can make faster and faster browsing and use of the web, because they intervene to facilitate some procedures when you shop online, when you authenticate to restricted access areas or when a website automatically recognizes the language you usually use. A particular type of cookie, called analytics, are then used by the managers of the websites to collect information, in aggregate form, on the number of users and how they visit the site, and then develop general statistics on the service and its use.
Profiling cookies
Other cookies can instead be used to monitor and profile users while browsing, to study their movements and habits of web browsing or consumption (what they buy, what they read, etc.), also for the purpose of sending advertising of targeted services and personalized (so-called Behavioral Advertising). In this case we speak about profiling cookies. It may happen that a web page contains cookies from other sites and content in various elements hosted on the page itself, such as banner ads, images, videos, etc. These are so-called third-party cookies, which are usually used for profiling purposes. Given the particular invasiveness that profiling cookies (especially those third parties) may have in the private sphere of users, European and Italian legislation provide that the user must be adequately informed about the use of the same and express their valid consent to the inclusion of cookies on your terminal
Cookies used
The site www.rarake.eu uses cookies to make site services simpler and more efficient for the user viewing the web pages. Users who access the site will receive a very small amount of information in their devices, whether they are computers or mobile devices, in the form of small text files, the "cookies" in fact, stored in the directories used by their browser. The cookies used by www.rarake.it allow:
– memorize navigation preferences,
– avoid re-entering the same information several times,
– analyze the use of the services and content provided by the site to optimize the browsing experience.
The site www.rarake.eu use Google Analytics. In this case, the information generated by the cookie about the use of the site is transmitted to Google Inc. and stored on its servers. These recipients of the data use this information for the purpose of producing reports on the activities of the site, intended for the Data Controller or persons appointed by it. You can refuse to provide browsing data by selecting the appropriate setting on your browser. In this regard, please refer to the information published on the Google website https://www.google.it/intl/it/policies/privacy/ and the additional component of the browser for the deactivation of Google Analytics https://tools.google. com / dlpage / gaoptout? hl = en. This choice, however, could prevent you from using all the features of the site. On the contrary, by accepting the use of cookies as described above and continuing browsing, the user provides free and unconditional consent to the processing of personal data by the Committee and Google in the manner and for the purposes indicated above. From the moment the user clicks on any icons of Facebook, Twitter, Youtube, Instagram etc., he is directed to the respective sites and receives from these cookies that are not under the control of the owner. Finally, if the user arrives on the site after clicking on a banner posted on another site, he must know that the manager of the advertising network has assigned the necessary cookies to detect the throughput and the amount of any purchases made. The responsibility of the management of these cookies is the manager of the advertising network whose information is normally available on its institutional website.
INFORMATION TO PERSONS FILLING THE "JOIN OUR NEWSLETTER" FORM
Repossi Macchine Agricole s.r.l. will use the information you provide on this form to be in touch with you through email newsletters. You can change your mind at any time by clicking the unsubscribe link in the footer of any email you receive from us, or by contacting us at info@repossi.it. We use MailChimp as our marketing automation platform. By clicking below to submit this form, you acknowledge that the information you provide will be transferred to MailChimp for processing in accordance with their Privacy Policy and Terms.
This information is given to natural persons who access and consult the Repossi Macchine Agricole S.R.l. website, pursuant to art. 13 d. lgs. June 30, 2003 No. 196 – "Code regarding the protection of personal data" and art. 13 GDPR 679/16 – "European regulation on the protection of personal data".
Identity of the Owner
This website is managed by beSharp S.r.l., owner of the treatment of Repossi Macchine Agricole S.r.l. with headquarters in Casorate Primo. The Data Controller guarantees the security, confidentiality and protection of personal data in their possession, at any stage of the process the treatment of the same. The personal data collected are used in compliance with Legislative Decree no. 196/2003 and GDPR 679/16.
Stakeholders
This information is given to individuals who fill out the form (form) "Contacts" proposed by the site www.rarake.eu of Repossi Macchine Agricole S.r.l. based in Casorate Primo
Data source
The data are spontaneously given by the interested party through the form (form) proposed by the website www.rarake.eu
Purpose of the treatment
The personal data of the individuals who fill out the form "Contacts" are processed to process their requests.
Legal basis of the processing
The personal data of the individuals who fill out the form "Contacts" are lawfully processed for the execution of a contract of which the interested party is a party or execution of pre-contractual measures taken at the request of the same (the request forwarded).
Recipients of the data
The personal data processed by the Data Controller will not be disclosed, or will not be disclosed to indeterminate subjects, in any possible form, including that of their availability or simple consultation. They may also be communicated to employees of Repossi Macchine Agricole S.r.l. and, to the extent strictly necessary, to persons who for the purpose of processing your request must provide goods and / or perform services or services on our behalf. Finally, it may be communicated to the persons entitled to access it under the provisions of the law, regulations, and community regulations.
Data transfer
The Data Controller does not transfer personal data to third countries or to international organizations. However, it reserves the right to use cloud services; in which case, the service providers will be selected among those who provide adequate guarantees, as required by art. 46 GDPR 679/16.
Data retention
The Data Controller retains and processes personal data for the time necessary to fulfill the purposes indicated.
Rights of the interested party
With reference to art. 7 of Legislative Decree 196/2003 and Articles 15 – right of access, 16 – right of rectification, 17 – right to cancellation, 18 – right to limitation of treatment, 20 – right to portability, 21 – right of opposition, 22 right to oppose the automated decision-making process of GDPR 679 / 16, the interested party exercises his rights by writing to the Data Controller at the address above, or by email, specifying the subject of his request, the right that he intends to exercise and attaching a photocopy of an identity document attesting the legitimacy of the request.
Withdrawal of consent
With reference to art. 23 of Legislative Decree no. 196/2003 and art. 6 of the GDPR 679/16, the interested party can withdraw the consent at any time.
Complaint proposal
The data subject has the right to lodge a complaint with the supervisory authority of the state of residence.
Refusal to provide data
The interested party can refuse to give the owner his personal data as the conferment is optional. However, filling in the fields indicated is essential to be able to process requests received.
Automated decision-making processes
The Data Controller does not process treatments consisting of automated decision-making processes.
Cookies Policy
Types of cookies
Cookies are information entered on the user's browser when you visit a website or use a social network with your PC, smartphone or tablet. Each cookie contains different data such as, for example, the name of the server it came from, a numerical identifier, etc. Cookies may remain in the system for the duration of a session (ie until you close the browser used for web browsing) or for long periods and they can contain a unique identification code.
Technical cookies
Some cookies are used to perform computer authentication, monitoring sessions and storing specific information about users accessing a web page. These cookies, so-called technical, are often useful, because they can make faster and faster browsing and use of the web, because they intervene to facilitate some procedures when you shop online, when you authenticate to restricted access areas or when a website automatically recognizes the language you usually use. A particular type of cookie, called analytics, are then used by the managers of the websites to collect information, in aggregate form, on the number of users and how they visit the site, and then develop general statistics on the service and its use.
Profiling cookies
Other cookies can instead be used to monitor and profile users while browsing, to study their movements and habits of web browsing or consumption (what they buy, what they read, etc.), also for the purpose of sending advertising of targeted services and personalized (so-called Behavioral Advertising). In this case we speak about profiling cookies. It may happen that a web page contains cookies from other sites and content in various elements hosted on the page itself, such as banner ads, images, videos, etc. These are so-called third-party cookies, which are usually used for profiling purposes. Given the particular invasiveness that profiling cookies (especially those third parties) may have in the private sphere of users, European and Italian legislation provide that the user must be adequately informed about the use of the same and express their valid consent to the inclusion of cookies on your terminal
Cookies used
The site www.rrepossi.it uses cookies to make site services simpler and more efficient for the user viewing the web pages. Users who access the site will receive a very small amount of information in their devices, whether they are computers or mobile devices, in the form of small text files, the "cookies" in fact, stored in the directories used by their browser. The cookies used by www.rarake.it allow:
– memorize navigation preferences,
– avoid re-entering the same information several times,
– analyze the use of the services and content provided by the site to optimize the browsing experience.
The site www.repossi.it use Google Analytics. In this case, the information generated by the cookie about the use of the site is transmitted to Google Inc. and stored on its servers. These recipients of the data use this information for the purpose of producing reports on the activities of the site, intended for the Data Controller or persons appointed by it. You can refuse to provide browsing data by selecting the appropriate setting on your browser. In this regard, please refer to the information published on the Google website https://www.google.it/intl/it/policies/privacy/ and the additional component of the browser for the deactivation of Google Analytics https://tools.google. com / dlpage / gaoptout? hl = en. This choice, however, could prevent you from using all the features of the site. On the contrary, by accepting the use of cookies as described above and continuing browsing, the user provides free and unconditional consent to the processing of personal data by the Committee and Google in the manner and for the purposes indicated above. From the moment the user clicks on any icons of Facebook, Twitter, Youtube, Instagram etc., he is directed to the respective sites and receives from these cookies that are not under the control of the owner. Finally, if the user arrives on the site after clicking on a banner posted on another site, he must know that the manager of the advertising network has assigned the necessary cookies to detect the throughput and the amount of any purchases made. The responsibility of the management of these cookies is the manager of the advertising network whose information is normally available on its institutional website.